Acting Chief State Epidemiologist
Varun Shetty, MD, MBA, MS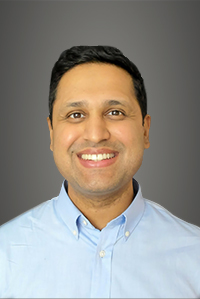 Dr. Shetty graduated from Union College in Schenectady, New York with a bachelor's degree in Biology and Political Science. He is an alumnus of the AmeriCorps national service program. He received an MBA in Healthcare Management from Union Graduate College (now Clarkson University), and an MS in Biomedical Sciences from Tufts University School of Medicine in Boston, Massachusetts. He received his Doctor of Medicine degree from Tulane University School of Medicine in New Orleans, Louisiana, and completed his residency training in Internal Medicine and Pediatrics at Rush University Medical Center in Chicago, Illinois. He was selected to serve as a chief resident for Pediatrics.
Dr. Shetty joined the Centers for Disease Control and Prevention (CDC) as an Epidemic Intelligence Service (EIS) officer in 2019, where he was assigned to support Texas Department of State Health Services (DSHS). In this role, he participated in a number of public health responses, including the E-cigarette, or vaping product, use associated lung injury (EVALI) epidemic, and the COVID-19 pandemic.
Since 2021, Dr. Shetty has served as the CDC Career Epidemiology Field Officer (CEFO) assigned to Texas DSHS, where he has supported the Office of the Chief State Epidemiologist and contributed to state public health emergency preparedness.