Associate Commissioner of Infectious Disease Prevention Services
Joshua Hutchison, MBA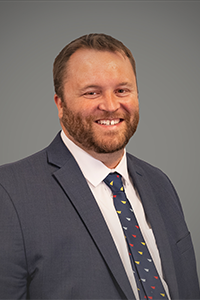 Joshua Hutchison, MBA, serves as the associate commissioner for the Infectious Disease Prevention Services Division in the Texas Department of State Health Services (DSHS).  Prior to that, Josh most recently served as the HIV/STD Section Director. In that role, he focused on making operations more efficient. He reorganized the section's positions and responsibilities, including creating and overseeing a financial team to ensure program budget stability. Josh's efforts reduced staff vacancy rates from more than 46% to less than 19%.
Josh has overseen significant technology projects during his time at DSHS, including the STD/TB/HIV/AIDS Reporting and Response System project, and the Take Charge Texas enhancement project. Josh has also worked as a vaccine finance manager and financial analyst within the Immunizations Section.
Josh has worked in various capacities previous to his time at DSHS.  His previous experience in the Texas Health and Human Services system includes time at the Office of the Texas Veterans and Family Alliance Program, and the Aging and Disability Resource Center program.
Before working for the state of Texas, Josh worked in production management for private companies. He also served as an all-source intelligence analyst in the U.S. Army. 
Josh has a Master of Business Administration from Western Governor's University and a Bachelor of Science degree from Texas State University.