Associate Commissioner of Laboratory and Infectious Disease Services
Imelda Garcia, MPH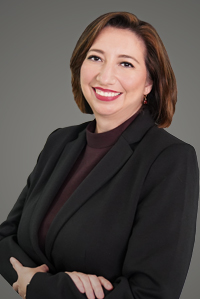 Imelda Garcia serves as the Associate Commissioner of the Laboratory and Infectious Disease Services Division at the Department of State Health Services (DSHS). In this role, she has been leading the agency's overall efforts in the COVID-19 pandemic response including disease surveillance, testing, and state's COVID-19 vaccination efforts. In May 2021, she was recognized by the Texas Senate for serving as the Chair of the Expert Vaccine Allocation Panel (EVAP). As the chair, she led the state in recommending the initial COVID-19 vaccines to eligible populations and the vaccine allocations. In addition to leading the COVID-19 response, she also led the agency's response to Ebola, Zika, and other infectious diseases.
Commissioner Garcia has dedicated her professional career to public health. She began her public health service in 2004 working with New York City Department of Health and Mental Hygiene. In 2007, she moved back home to Texas and resumed her public health work at DSHS. She has held various positions within DSHS with increasing leadership responsibilities working in the Family and Community Health Services Division. In 2014, she became the Director of Infectious Disease Prevention Section. In this role, she oversaw prevention and control activities related to zoonotic and emerging and acute infectious diseases, healthcare safety including healthcare acquired infections and preventable adverse events, antibiotic stewardship, and child and adult immunization programs. In 2018, she was promoted to her current role as the Associate Commissioner of Laboratory and Infectious Disease Services.
Commissioner Garcia received her undergraduate degree from the University of Texas at Austin in Mexican American Studies with a concentration in public policy. From 2001 to 2003, Ms. Garcia attended from The Mailman School of Public Health at Columbia University gaining her master's in public health with a focus on health policy and management.