Congenital Syphilis - FIMR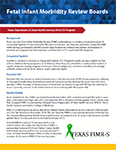 Texas uses the Fetal Infant Morbidity Review (FIMR) methodology to conduct enhanced reviews of Congenital Syphilis (CS) and perinatal HIV cases in Houston, San Antonio, and Dallas. Participants identify missed opportunities for disease intervention and barriers to medical care engagement that may have contributed to a CS or perinatal HIV diagnosis.
Case summaries consisting of medical chart abstractions and maternal interviews provide valuable insight into the maternal experience prior, during, and after pregnancy. Meeting participants come from a variety of settings across the community such as medical providers, members of healthcare systems, the public health sector, and representatives from systems who serve persons diagnosed with syphilis or HIV. Over the years, various trends in barriers to engagement in care emerged (Figure 1).
During a FIMR meeting, participants identify action items that community advocates address that may have directly or indirectly led to a CS case or a perinatal HIV case, or cases in which key perinatal HIV prevention opportunities were missed. Follow-up outcomes range from direct provider outreach to changes in the law. If you are interested in attending a FIMR meeting, 2021 dates are below (CE credits are offered).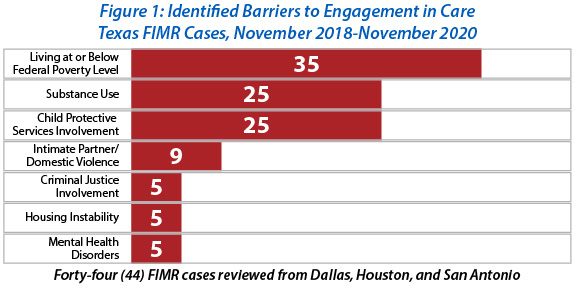 Fetal Infant Mortality Review Boards
Fetal Infant Morbidity Review Meetings

Dallas (Wednesdays, 12:30-4:00 p.m.):
San Antonio (Tuesdays, 9:00 a.m.-12:30 p.m.):
Houston (Thursdays, 1:00-5:00 p.m.):
---
Reporting Congenital Syphilis | Provider Resources | Program Resources | Data and Surveillance | For the Public | FIMR | Exploring an Epidemic podcast
---