Congenital Syphilis in Texas Section 8 - Congenital Syphilis Cascade
This cascade is a tool used to help identify missed opportunities for prevention that may contribute to CS and areas for improvement. Based on information from the CS cascade, 154 (42 percent) mothers had timely prenatal care, testing, and diagnosis. However, despite receiving timely services, 72 percent had either inadequate treatment, received no treatment, or had unknown treatment (Figure 19).
 
Figure 19: Congenital Syphilis Cascade, Texas 2018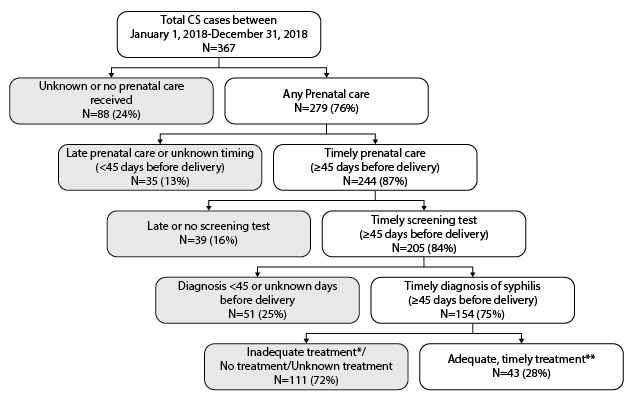 *Inadequate treatment is that which is initiated <30 days prior to delivery or was incorrect dosage based on syphilis stage
**Persons in this group may have delivered infants who meet the CS case definition based on infant criteria 
Data for Figure 19
Efforts to Decrease Congenital Syphilis
Texas has implemented three Fetal Infant Morbidity Review Boards (FIMR) with external community stakeholders in the highest CS morbidity jurisdictions (Harris, Bexar, and Dallas counties) to perform in-depth reviews of CS cases. These FIMRs allow for community engagement to identify missed opportunities for disease intervention and create local action to change systemic barriers to care.
In 2018, a CS Health Advisory was sent to medical providers and in 2020, an educational summit will be held for medical providers focusing on the evaluation and treatment of pregnant women with syphilis and their infants. DSHS created an infant evaluation and treatment tool (PDF : 306 kB) for medical providers to facilitate determination of CS infant clinical scenarios. It is critical for medical providers to discuss testing and treatment history with a client because persons can still test positive after receiving treatment. Local health departments can confirm testing and treatment history; the absence of confirmed treatment will result in a reported CS case.
DSHS has provided in-person and online trainings for field staff and created tools to improve pregnancy ascertainment, prenatal care referrals, and CS reporting. In 2019, Texas Health and Safety Code 81.090 was changed to include testing at the first prenatal visit, again in the third trimester but no sooner than 28 weeks' gestation, and again at delivery. This is in accordance with CDC recommendations for testing during pregnancy. The DSHS TB/HIV/STD Section is working with other DSHS organizational units, including Vital Statistics and the Birth Defects Registry as well as Medicaid at the Health and Human Services Commission, to improve case ascertainment and provide additional opportunities for analysis, including more comprehensive assessment of treatment adequacy. Findings will be utilized to improve provider education and inform stakeholders and policymakers. Additionally, DSHS will publish annual CS epidemiological profiles and CS fact sheet updates as well as provide biennial legislative reports to provide current data and recommendations.
---
Congenital Syphilis in Texas
Table of Contents | Executive Summary | About this Report | Understanding Syphilis | An Overview of Congenital Syphilis and Syphilis in Women of Childbearing Age in Texas | Maternal Demographics for Women Delivering Infants with Congenital Syphilis | Barriers to Care | Birth Outcomes Associated with Congenital Syphilis | Congenital Syphilis Cascade
---