DSHS Laboratory keeps Texas' food safe continued: Page 2

NGS on 11 positive Listeria monocytogenes isolates from an outbreak. Chun Wang, manager of the DSHS Laboratory's Advanced Molecular Microbiology Group, cites the DSHS Laboratory's involvement in the ice cream investigation as one of their greatest achievements.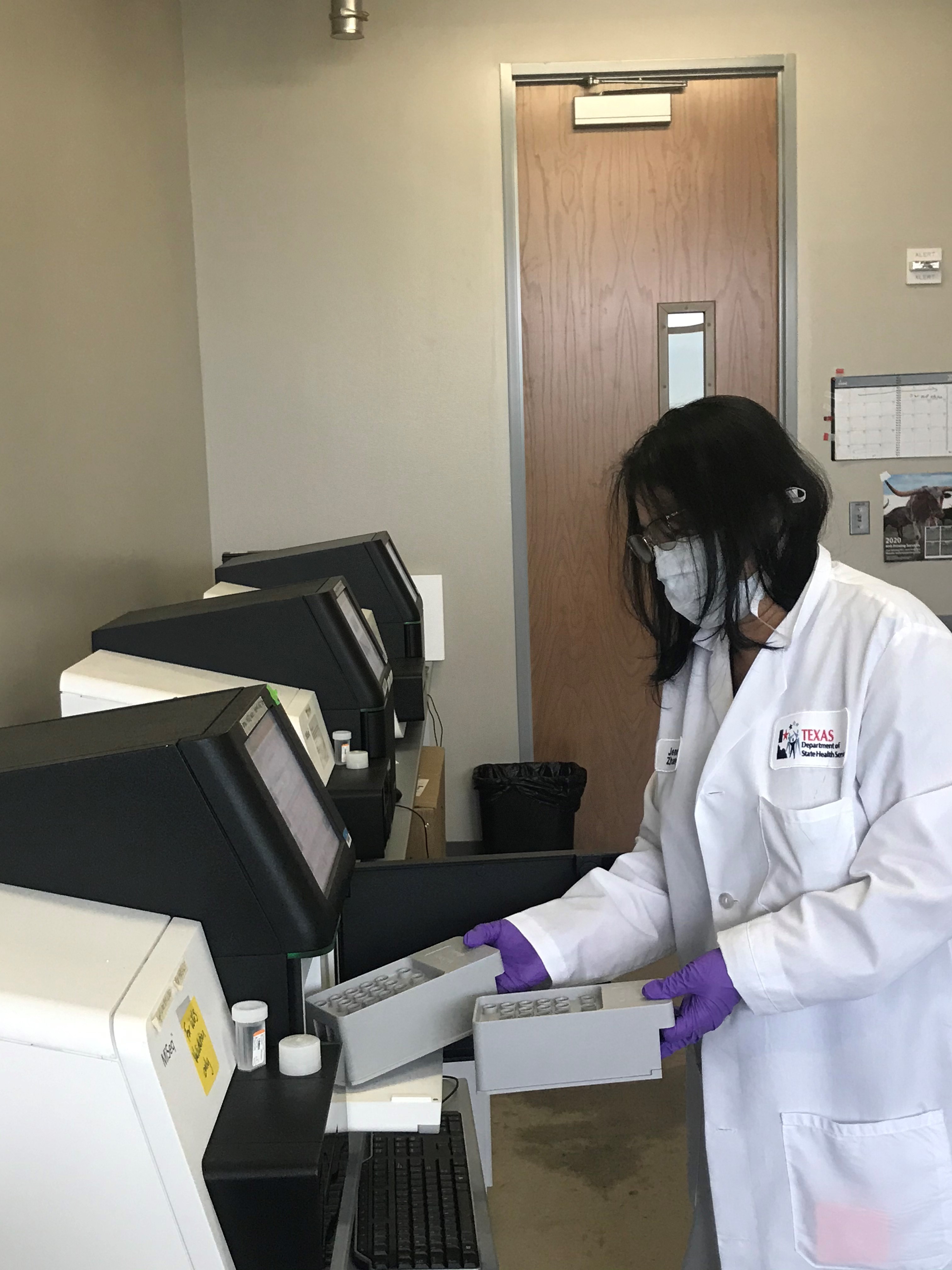 The DSHS Laboratory's Radiochemistry Group performs radiological analyses for special projects and for routine surveillance from areas surrounding nuclear power plants and other places of interest. With the FERN grant, the group has been  able to participate in emergency response exercises and trainings. Sarah Martinez, the Group Manager of the Radiochemistry Group, says the Menu 2010 exercise was memorable because it was a collaboration of the FERN Cooperative Agreement Program Radiochemical labs to create an interlaboratory comparison study of food testing capabilities. For this project, they tested specific food products such as powdered milk, canned tuna, and apples for radiochemical contamination using gamma spectroscopy, alpha spectroscopy, and gross alpha/beta analysis. With the funding, they have also been able to purchase additional equipment that allowed them to increase their testing capacity and shorten their testing turnaround time.
  The DSHS Laboratory analyzes approximately 2,500 human food samples per year on a routine basis using primarily FDA standard methods. With the FERN grant, in coordination with the DSHS Consumer Protection Group, in the past 5 years, the DSHS Laboratory has been able to test an additional 900 samples of food items such as deli ham, cucumbers, black pepper, leafy greens, ice cream and dry milk products for Salmonella species or Listeria monocytogenes. In addition, they perform whole genome sequencing of isolates to identify foodborne bacterial pathogens and perform surveillance at the molecular level. The laboratory continues to increase its sequencing capabilities for foodborne illness outbreak investigations and identification of genomic diversity of pathogenic microorganisms in our food supply.
The DSHS Laboratory is diligent in its efforts to increase the laboratory's capacity and capability by increasing the number of tests performed and the number of organisms identified every year. Work will continue with the FDA and local partners to assure the safety of food in the State of Texas.
1 Microbiological Surveillance Sampling: FY14-16 Whole Fresh Avocados -  https://www.fda.gov/food/sampling-protect-food-supply/microbiological-surveillance-sampling-fy14-16-whole-fresh-avocados?utm_campaign=National%20Broadcast%20Message%20-%20FDA%20Releases%20Reports%20on%20Avocado%20and%20Hot%20Pepper%20Sampling&utm_medium=email&utm_source=Eloqua

THE LABORATORIAN
August 2020, Volume One, Issue Five                         
Published by DSHS Laboratory Business Operations Branch and Laboratory Services Section
1100 W. 49th Street MC 1947
Austin, TX 78756