Test Texas HIV Coalition
---
ABOUT US | JOIN US | CONTACT US
ROUTINE HIV SCREENING | HOW WE PREVENT | HIV | WITH YOU | NEWS
---
| | | |
| --- | --- | --- |
| VIDEO: INTRO TO IMPLEMENTING ROUTINE HIV TESTING IN TEXAS COURSE | PART OF THE PLAN: NATIONAL HIV/AIDS STRATEGY | JOIN US TO HELP FIGHT HIV |
| A brief overview of the DSHS online course covering the best ways to implement routine HIV testing. | Routine HIV screening is a key recommended action in the national goal of making infection rare. | We can unite to end HIV by ensuring that everyone knows their HIV status. Those who know they have HIV make choices to protect themselves and others. |
---
Do You Know How HIV Affects Your Community?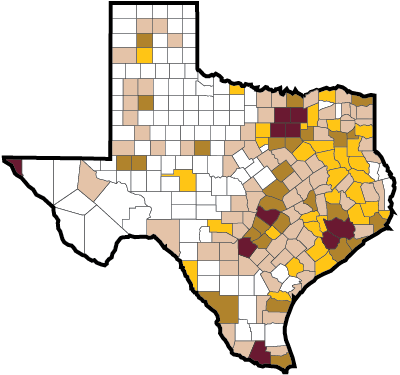 By the end of 2019, there were 97,844 Texans known to be living with a diagnosis of HIV.
This is an increase of 25 percent in the past five years. Growth is primarily due to advances in the effectiveness of HIV treatment and increases in the number and proportion of persons living with HIV (PLWH) who are receiving effective treatment. Over the past decade, the number of new cases has been stable, with 4,203 new diagnoses in 2019.
To learn more, see our interactive map of Texas which provides county-level HIV data and allows you to visually explore how HIV is affecting your community.
 
Your Toolbox
Implementation checklist - The essential elements needed to implement routine HIV screening as a standard of care in your practice. Download Implementation Checklist
HIV testing algorithm - A visual chart describing the current recommended testing procedure to diagnose HIV. Learn More about HIV Testing Algorithm
USPSTF grade A recommendation for routine HIV screening - Encourages clinicians to screen adolescents and adults ages 15 to 65. Learn More about this Recommendation
 
Latest News
HIV-Related Cancers - Providers caring for persons living with HIV (PLWH) should be aware of the HIV-associated cancers and potential interactions during treatment. Two recent New England Journal of Medicine articles.... Continue Reading
Webinar Recording: HIV Testing Technologies – Choosing an HIV Test - APLA-Shared ActionHD produced the webinar "HIV Testing Technologies: Choosing an HIV Test," presented by Dr. Bernard M. Branson, a leading expert in the area of HIV testing. The webinar described general principles of HIV tests, provided an overview of how tests operate, addressed any limitations and misconceptions of HIV tests currently available, and discussed how the various tests differ. Continue Reading
New FREE Continuing Education from MMWR and Medscape: HIV Testing and Diagnosis Delays - CDC's MMWR and Medscape are proud to introduce a new FREE continuing education (CE) activity that describes diagnosis delays among persons infected with HIV: Vital Signs: Human Immunodeficiency Virus Testing and Diagnosis Delays — United States. This activity is intended for infectious disease clinicians, family medicine specialists, internists, nurses, pharmacists, public health officials, and other clinicians caring for patients with or at risk for HIV infection. Continue Reading
 
Knowledge is power. Learning one's positive serostatus is the first step for newly diagnosed HIV patients to get linked to care and treated early in the disease process with the potential to have a nearly normal lifespan.

- C. Everett Koop, Former Surgeon General of the United States
ROUTINE HIV SCREENING | HOW WE PREVENT | HIV | WITH YOU | NEWS
---