2017 Annual Hospital Survey
Table of Contents
---
2017 Annual Hospital Survey 
The 2017 Annual Hospital Survey is a cooperative survey between the Department of State Health Services (DSHS), the American Hospital Association (AHA), and the Texas Hospital Association (THA), which is sent to all licensed hospitals in Texas and collects information required by law about financial, utilization, and other data. More information about the hospital survey can be found here.
In the 2017 survey, data from 616 hospitals was collected covering the 2017 fiscal year (Sept 1, 2016-Aug 31, 2017) via an online survey. The survey includes a section of questions on immunizations. All data is self-reported by the hospital.
A sub-analysis was performed on birthing hospitals only. In this analysis, birthing hospitals were defined as hospitals that self-reported having inpatient delivery services or hospitals without inpatient delivery services that reported delivering more than five babies in the past year. There were 228 birthing hospitals included in the sample. Another sub-analysis looked at the 79 hospitals that self-reported providing outpatient prenatal services. 
Hospital Employee Immunization Policy
95.6% of hospitals have an immunization policy.
More than half of hospitals in Texas have a mandatory influenza vaccination policy. More than 40% of hospitals have a mandatory Measles-Mumps-Rubella (MMR) policy and about a third have mandatory Varicella, tetanus, diphtheria, and acellular pertussis (Tdap), and Hepatitis B (HepB) vaccination policies (Figure 1).
The Healthcare Infection Control Practices Advisory Committee (HICPAC) and the American Heart Association (AHA) encourage and endorse immunization policies and programs for hospital personnel.

A mandatory policy is defined as a policy that requires employees to provide dates of immunization or laboratory evidence of immunity.  
A recommended policy is defined as a policy that recommends employees get immunizations but does not require immunizations for employment.
A combined policy is defined as a policy that designates employees in specified areas as required to have immunizations but only recommends immunizations for others.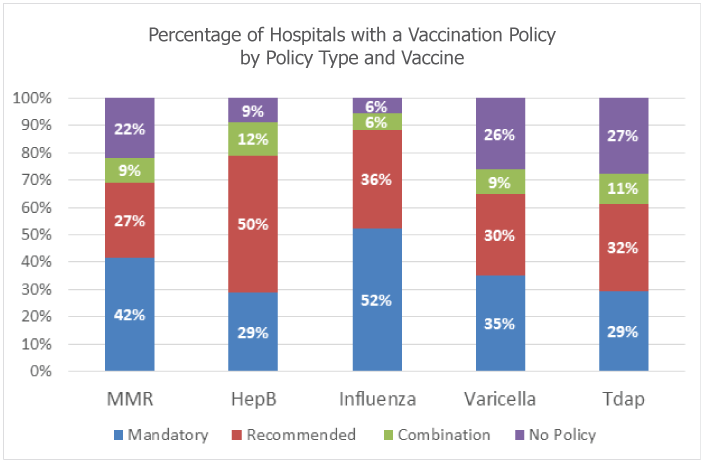 Hepatitis B Testing and Vaccination
Hepatitis B is a virus that can be passed from mother to child during birth. About 90% of infants who are infected at birth will become chronically infected with Hepatitis B. Chronic Hepatitis B infections can cause cirrhosis, liver failure, and liver cancer. Texas law requires that all pregnant women be tested for Hepatitis B Surface Antigen (HBsAg) at their first prenatal exam and at time of admission for delivery.

79.8% of women were screened at delivery for HBsAg.  

The Advisory Committee on Immunization Practices recommends that all infants, regardless of mother's hepatitis B status, receive the HepB vaccine within 24 hours of birth.

63.3% of infants, born to all women, received the recommended first dose of HepB within 24 hours of birth. 
Policies and Standing Orders
87% have a policy to inform the pediatric care provider if a baby is born to a mom infected with Hepatitis B or to a mom of unknown status.
93% have a policy to administer Hepatitis B immune globulin (HBIG) to infants born to moms infected with Hepatitis B.
93% have a policy to administer 1 dose of HepB to infants born to moms infected with Hepatitis B.
94% have a policy to administer 1 dose of HepB to all infants.
79% have a policy to provide new parents with immunization information prior to hospital discharge. 
Texas Vaccines for Children (TVFC) Providers
The TVFC program provides low-cost vaccines to eligible children from birth through 18 years of age. Currently 51% of birthing hospitals say they are registered as TVFC providers.  
Texas Immunization Registry (ImmTrac2)
Texas state law requires that parents/guardians are granted the opportunity to consent or request exclusion from the state's immunization registry, ImmTrac2, at the time of birth certificate registration. 
88% of birthing hospitals say they allow parents to decline participation in the registry.
Results - Hospitals Providing Outpatient Prenatal Services 
The CDC recommends vaccination against Tdap during every pregnancy. 69.6% of hospitals have a policy to vaccinate pregnant women with Tdap.
 
Annual hospital survey data from 2017 suggest many hospitals are complying with immunization requirements and policy recommendations. The results of the survey provide an opportunity for the DSHS Immunization Unit to follow up with hospitals that self-report non-compliance and provide education on immunization policies. Texas DSHS Immunization Unit remains dedicated to its goal of eliminating the spread of vaccine preventable diseases by increasing immunization coverage among Texans, including hospital employees and patients.