Immunization Quality Improvement for Providers Program



The Immunization Quality Improvement for Providers (IQIP) Program promotes and supports the implementation of provider-level quality improvement strategies. IQIP strategies are designed to support healthcare providers in identifying opportunities to increase vaccine uptake in adherence with the Advisory Committee on Immunization Practices (ACIP) recommended routine immunization schedule and improve immunization service delivery.
The core quality improvement strategies of the IQIP Program supports Texas Vaccines for Children (TVFC) providers and are centered around improving immunization scheduling practices, leveraging the reporting functionality of the statewide immunization registry, ImmTrac2, and giving a strong vaccine recommendation (with an emphasis on HPV).
For more information about IQIP or additional technical assistance, please refer to the tiles below or contact your Responsible Entity (RE). 
---
IQIP Overview
What is IQIP?
IQIP is a collaborative approach to improving your clinic's immunization program. The purpose of IQIP is to promote and support increased vaccine uptake through provider-level quality improvement strategies.
IQIP Process
The IQIP cycle takes place over 12 months to implement identified improvements to your clinic's vaccination processes. The cycle is conducted in 4 parts: the site visit where provider workflow is assessed and a Strategy Improvement Plan (SIP) is developed, and 3 subsequent check-ins where additional technical assistance is provided.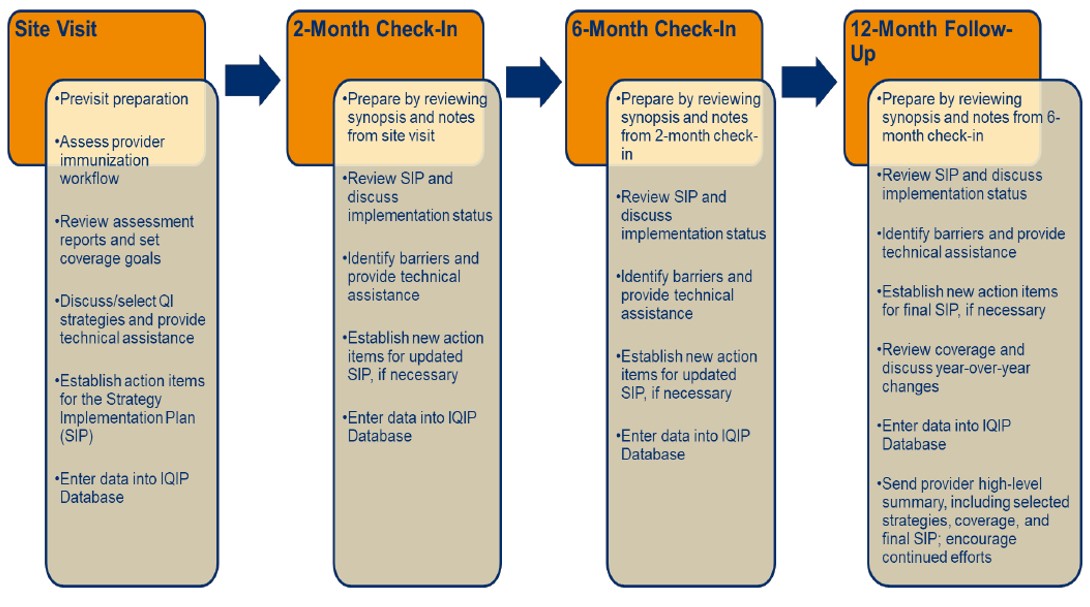 The 4 Strategies
As part of the IQIP process, the SIP focuses on 4 strategies designed to increase vaccine uptake in your facility. Each strategy includes provider-consultant-designed action items, technical assistance, and resources to achieve a successful IQIP cycle.
1. Schedule the next vaccination visit before the patient leaves the provider's site.
2. Leverage immunization information system (IIS) functionality to improve immunization practice
3. Give a strong vaccine recommendation (include HPV vaccine if the provider has adolescent patients)
4. Strengthen vaccination communications
Resources
IQIP at a Glance for Providers PY3

Description of the IQIP Core Strategies for Providers PY3

Scheduling the Next Immunization Visit
Leveraging IIS Functionality
Give a Strong Vaccine Recommendation
Strengthen vaccine communications

Role of the Immunization Champion PY3

Texas IQIP Program- Operations Manual for Providers - Rev. Date: 03/2022

IQIP Resource Binder for Providers - Rev. Date: 03/2022
Additional Resources