Obtaining AR Specimen Collection Kits and Mailing Containers from DSHS Laboratory
Upon request, the Laboratory will provide—free of charge—specimen collection kits, Sabouraud's Dextrose Agar (SDA) slants, and mailing containers to submitters. Questions about setting up a submitter account to receive supplies may be directed to the AR Laboratory at TexasARLN@dshs.texas.gov.
Note: CHROMagarTM Candida Chromogenic agar slants and chocolate agar slants for Candida isolate submissions are not provided by the Laboratory.
Specimen Collection Kits
Please request collection kits on an as-needed basis. Do not order kits in advance or to build up a supply.
Questions about ordering AR Lab collection kits should be directed to the points-of-contact listed in the table below..
Test Type
Collection Kit/Media Provided by AR Lab
Collection Kit Ordering Details
CRO Colonization

Copan Cepheid Sterile Transport Dual Swab collection and transport kit Cepheid Catalog # 900-0370)

Must first obtain permission from a DSHS HAI epidemiologist to submit specimens. Email ICAR@dshs.texas.gov before specimen collection. Epidemiologist will request swabs.
Candida spp. Colonization*

Becton Dickinson BD ESwab collection and transport kit (BD Catalog # BD 220245).
Copan Regular Size Nylon flocked swab with liquid Amies (Copan Catalog # 480C)
SDA slants (for isolates)

Email an HAI epidemiologist at ICAR@dshs.texas.gov, or call the AR lab at (512) 776 – 7342 to request kits and/or SDA slants.
Neisseria gonorrhoeae Susceptibility**

For penile, urethral, or conjunctival specimens:

Copan * (Copan Catalog # 481C)

Call (512) 776 - 7582 to request GC swab collection kits.

For oral, nasopharyngeal, rectal, or vaginal specimens:

Copan Eswab™ Regular Size Nylon flocked swab with liquid Amies Copan Catalog # 480C or Copan Transystem 108C with Amies gel
Mailing Containers
Mailing containers and labels provided by the AR Laboratory meet current Department of Transportation (DOT) and United States Postal Service (USPS) regulations for shipping Biological Substance, Category B, UN3373. Containers are the property of the State of Texas and should be used only for shipping specimens to the laboratory.
The AR laboratory will provide mailing containers for submitters.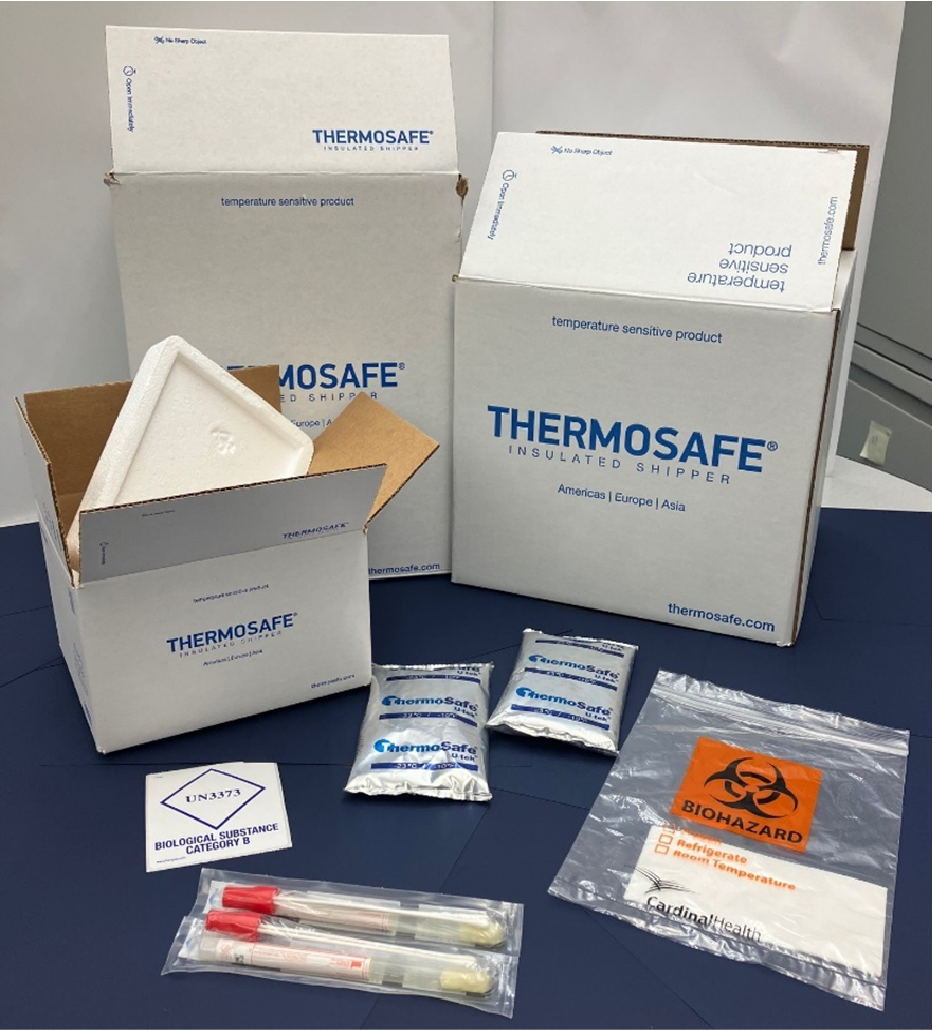 Example of supplies provided to submitters by the AR Lab, including swabs, ice packs, biohazard transport bags with absorbent material, adhesive UN 3373 labels, and insulated shipping containers. Image source: DSHS (2022)
General questions about setting up a submitter account to receive supplies from the laboratory and the appropriateness of specimen shipping containers may be directed to the Container Preparation Group at (512) 776 –7661 or email ContainerPrepGroup@dshs.texas.gov.
Orders will be shipped within five business days of receipt.*
* The AR Laboratory anticipates shipping AR N. gonorrhoeae collection swabs and mailing containers via overnight courier to avoid possible delays.