Rabies Specimen Shipping and Packing Instructions
Rabies Testing | Specimen Shipping & Packing | Diagnosis in Animals | Rabies in Texas | Reports & Links - 
---
All packages transported via courier (FedEx, UPS, LoneStar Overnight) will be accepted during regular business hours (8:00 a.m.–5:00 p.m. Monday–Friday). Specimens may also be hand-delivered to the Laboratory Specimen Receiving Dock but are accepted only during regular business hours. 
If you have questions about transporting specimens to the laboratory, please call (512) 776-7598. The Specimen Receiving Dock is on the north side of the laboratory building and is accessible from Grover Street. View a map of the DHSH Austin campus. 

General Instructions:
These instructions are for packaging and shipping rabies specimens by ground transportation. They were developed to comply with 49 CFR §171–173, which are the Federal regulations relating to the shipping of hazardous materials
A rabies specimen submission tutorial (pdf) on can be found here: Submitting Rabies Specimens to the Laboratory. 

Per 49 CFR regulations, rabies specimens must be labelled as Biological Substance, Category B UN3373. 

Specimens classified as Biological Substance, Category B UN3373 are required to be triple-contained and to be shipped in a rigid outer packaging (fiberboard box) that is capable of withstanding being dropped from a height of 1.2 meters (4 feet). 

Federal law requires that shippers of Biological Substances, Category B UN3373 be familiar with 49 CFR parts 171 through 179. These regulations are available online at the Pipeline and Hazardous Materials Safety Administration's (PHMSA) website.

If you ship via overnight air courier, such as FedEx, you must comply with the more stringent International Air Transportation Agency (IATA) regulations for Biological Substances.  Contact your courier for appropriate packaging and labeling instructions if your package will be shipped by air.

Please do not ship a specimen to arrive on a weekend or holiday. Do not ship via overnight carrier on Friday or the day before a holiday! 

A Rabies Submission Form (G-9) must be completed for each rabies specimen submitted. 
Specimen Preparation:
Do Not Submit LIVE Specimens! Live animals will not be accepted.  
Ship only the animal head, unless you are submitting a bat or a very small rodent. 
 
Have a qualified person separate the animal head from the body as soon as possible after death.
 
DO NOT FIX BRAIN TISSUE IN FORMALIN OR ANY OTHER FIXATIVE! Avoid damage to the brain, as it may compromise the test. If only the brain is submitted, the minimum tissue requirements for rabies testing are a complete transverse cross section of the brain stem and tissue from the cerebellum and/or hippocampus.
 
Immediately chill the specimen(s) to between 32ºF and 45ºF (0ºC and 7ºC), being careful not to freeze.
 
Do Not Freeze Specimens! Freezing may damage the brain tissue and can compromise the test.
 
Due to biohazard safety guidelines the laboratory is unable to return carcasses to submitters.
Packaging and Shipping Biological Substances, Category B UN3373
Place each specimen in a sealable plastic storage bag inside a second sealable or plastic bag. Seal each bag securely to prevent leaks. 

Attach an identification number or name to the outside of each double-bagged specimen.  The identification must match the information on the submission form.  This is especially important if more than one specimen is sent in the same package.   

Place the double-bagged sealable or plastic bag(s) containing the specimen(s) inside an inner container, such as a polystyrene box. 

Use sufficient absorbent packing material, such as newspaper, to cushion the specimen(s) and to absorb any leaks. Polystyrene peanuts are not recommended as they are not absorbent. 

Place enough cold gel packs, or similar refrigerants, in the inner container to ensure specimens are completely covered and will remain cold for at least 48 hours. DO NOT USE DRY ICE! Gel packs or a similar refrigerant are recommended. If wet ice must be used, please double bag it in sturdy, sealable plastic bags to avoid leaks. Also keep current weather conditions (particularly our hot Texas summers) in mind when packing the specimen(s) and include enough cold packs to keep the specimens at refrigeration temperatures for at least 48 hours.   

Close the inner container and place it inside the rigid outer container (cardboard box).

Place the completed G-9 Rabies Submission Form(s) in a sealable plastic bag. Then place the sealable plastic bag on top of the closed inner container/box and close the outer container. 

Secure the outer container with packing tape.

Ensure that a diamond-shaped UN3373 label is on the exterior of the outer container near the "Biological Substance, Category B" statement in the "send to" address.  The UN3373 label must have a minimum dimension of 
100 mm x 100 mm (3.9 inches).  
Laboratory Shipping Address for Rabies Specimens
Texas Department of State Health Services
Laboratory Services Section
1100 W. 49th Street 
Austin, TX 78756
ATTN: "Rabies Identification Team"
512-776-7595

Be sure to label the package with BIOLOGICAL SUBSTANCE, CATEGORY B, UN3373, and REFRIGERATE ON ARRIVAL 
Attach return address label to the top of the sealed outer container/cardboard box. (The return address label must include the name, address, and telephone number of the submitter and/or a person knowledgeable about the shipment of the rabies specimen.) The package is then ready to ship.

Call the toll-free Rabies Hotline at 1-800-252-8163 to alert the DSHS Laboratory Services Section of the expected arrival time and to provide any other pertinent information regarding the shipment. Please note that a completed G-9 Rabies Submission Form is still required to accompany each specimen.
Notifying the Rabies Laboratory before shipping specimens is required by Texas state law: 25 TAC  §169.33.
Special Instructions:
Provide return postage if return of the shipping container is desired.
For questions concerning testing of the specimen, please contact the DSHS Rabies Laboratory at (512) 776-7595, or email rabies.team@dshs.texas.gov.
Sample Shipping Label:
Submitter Name
Submitter Address
Submitter City, State Zip code
Contact Person
Phone number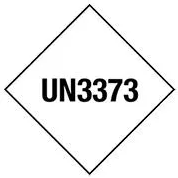 Texas Department of State Health Services
Laboratory Services Section
1100 W. 49th Street, MC-1947
Austin, TX  78756
ATTN:  "Rabies Identification Team"
(512) 776-7595
BIOLOGICAL SUBSTANCE, CATEGORY B
REFRIGERATE ON ARRIVAL
Get in Touch
Hours
Monday-Friday, 8 am - 5 pm