Acute Flaccid Myelitis Reporting
AFM Home   AFM Data   AFM Resources    Investigation   Job Aid for Clinicians   VPD Home   VPD Reporting   VPD Resources
Acute flaccid myelitis (AFM) is not nationally notifiable; CDC relies on clinician recognition and health department reporting of suspected AFM cases to learn more about AFM and what causes it1. Texas is participating in enhanced AFM surveillance. 
Clinicians should continue to be vigilant and send all information about patients that meet the clinical criteria (sudden onset of flaccid limb weakness) for AFM to their state or local health department. Since AFM is a relatively new condition, we need information on all patients to help us better understand the spectrum of AFM illness, all possible causes, risk factors, and outcomes for this condition. Clinicians should send information on patients who meet the clinical criteria regardless of any laboratory results or MRI findings.1
Clinicians should work with their state or local health department to complete the patient summary form provided below as soon as possible after patient identification so that they can be monitored in real time. Information should be sent to the local or state public health department regardless of any laboratory and MRI results.1
How to report and AFM procedures can be found in the Job Aid for Clinicians PDF.
CDC Requested Information and Documents:
Medical record information

History and physical (H & P)
All MRI reports
All neurology consult notes
EMG (if done)
Infectious disease consult notes (if available)
Vaccination record
Diagnostic laboratory reports
 

All MRI images (brain and spine) should be uploaded to a secure CDC transfer website

Contact DSHS or local health department for web link and CDC ID# 
Per CDC request please submit all above requested information to your local health department. Requested documents can also be sent to Department of State Health Services via secure email to AFMTexas@dshs.texas.gov or faxed to 512-776-7616.
AFM Specimen Shipping and Handling
Clinicians should collect specimens from patients suspected of having AFM as early as possible in the course of illness, preferably on the day of onset of limb weakness. Prior to shipping contact local or state public health. CDC requests specimens be submitted to the DSHS laboratory not directly to the CDC.
Specimen Type
Minimum Amount
Collection
Storage
Shipping
Comments
Required Specimens
Cerebrospinal fluid (CSF)
1 mL
Spun and processed; standard cryovial tube; collect at same time or within 24 hours as whole blood
Freeze at -70°C
Ship on dry ice
 
Respiratory - NP swab
1ml
Store in viral transport medium 
Freeze at -20°C  
Ship on dry ice
Send for EV/RV testing at CDC regardless of previous test results
Serum
0.4 mL
Spun and processed;  Tiger/red top tube
Freeze at -70°C
Ship on dry ice
 
Stool
=1gram
Collect in sterile container, no special medium required
Freeze at -20°C
Ship on dry ice
Two samples total, collected at least 24 hours apart, both collected as early in illness as possible and ideally within 14 days of illness onset  
In the event of death, please send the following specimens, if possible
Fresh-frozen tissue
 
Place directly on dry ice or liquid nitrogen
Freeze at -70°C
Ship on dry ice
Representative sections from various organs are requested, but particularly from brain/spinal cord (including gray and white matter), heart, lung, liver, kidney, and other organs as available.
Formalin-fixed or formalin-fixed, paraffin-embedded tissue
 
Avoid prolonged fixation—tissues should have been fixed in formalin for 3 days, then transferred to 100% ethanol
Room temperature
Ship at room temperature with paraffin blocks in carriers to prevent breakage
See comment above regarding frozen tissue
Please ship specimens overnight so they arrive at DSHSLab in Austin on Tuesday through Friday. Do not ship specimens on Friday or over the weekend.
*Common cause for rejection is no two patient identifiers and missingG-2V forms. Ensure each specimen has two patient identifiers such as first and last name AND date of birth. Each specimen must have a completed G-2V form. 
Texas Department of State Health Services G-2Vform
If your facility does not have a G-2V form, please contact LabInfo@dshs.state.tx.us
You will need the following information for your request

Submitter Number
Submitter National Provider Identification Number (NPI)
Provider Name
Mailing Address
City, State, Zip
Phone Number
Fax Number
Contact person name
Physician Name
Physician's NPI Number
Physician's UPIN Number
Email address
To ensure correct submission please ensure the below areas are completed on the G-2V form: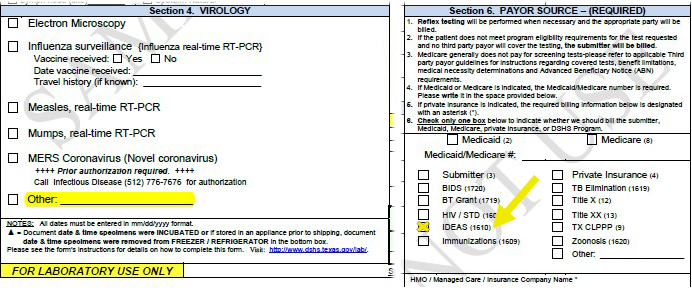 Ship specimens to:
Laboratory Services Section, MC-1947
Texas Department of State Health Services
Attn. Walter Douglass (512) 776-7569
1100 West 49th Street
Austin, TX 78756-3199
1 Centers for Disease Control and Prevention Acute Flaccid Myelitis for Clinicians and Health Departments