Value Based Benefits Design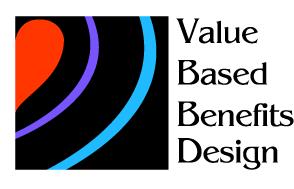 What is Value Based Benefits Design?
Value based benefits design (VBBD) is an approach to improve employee health and productivity while better managing healthcare costs – particularly around high-cost chronic diseases. Rather than focusing narrowly on health insurance benefits, VBBD encourages adoption of healthy behaviors by employees to prevent and manage chronic conditions before they worsen. VBBD has been used successfully by a number of employers, large and small, to provide incentives for healthy employee behaviors and de-incentivize unhealthy ones.
Incentives can include:
low or no-cost co-pays for preventive medications such as high blood pressure and high cholesterol medications;
reduced or free registration for smoking cessation and weight-loss classes;
free or low-cost nutrition and fitness counseling.
Disincentives can include increased cost sharing for insurance premiums for smokers. Employers who have practiced value based benefits design are demonstrating positive changes in absenteeism, presenteeism (present but unproductive); and reducing healthcare costs. To learn more about VBBD, visit the National Conference of State Legislatures website.
Hyperlink: http://www.ncsl.org/research/health/value-based-insurance-design.aspx