Consumer Microbiology - Specimen Collection & Handling
Note: Only drinking water testing is available to the general public. All other testing must be submitted through Public Health Sanitarians
---
Water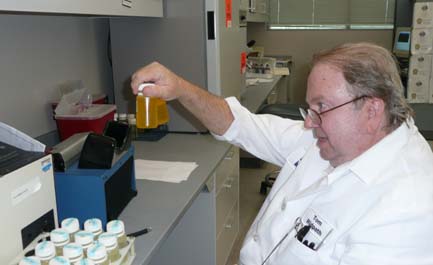 Drinking Water
Drinking water samples are not required to be refrigerated, although it is suggested. Samples must be collected in Environmental Protection Agency (EPA)-approved containers (available at the DSHS Laboratory) that contain sodium thiosulfate (a dechlorinating agent). A sample may be declared unsuitable for analysis for excessive chlorine if the chlorine residual is found in the sample. The sodium thiosulfate tablet inside the bottle is designed to inactivate a minimum of 20 ppm of chlorine.
Testing must begin within 30 hours of collection and there must be at least 105 ml of water (to the neck of the bottle). Do not overfill or underfill. Do not let the water over flow.
When a sample is collected, leave ample air space in the bottle (at least 2.5 cm) to facilitate mixing by shaking, before examination. A sample judged to have too little air space may be unsuitable for analysis for being too full to permit sufficient agitation.
Bay Water
Bay water (or Seawater) is collected by sanitarians from the health department and submitted to the laboratory, on ice, within 24 hours of collection. The receipt temperature can not exceed 10o Celsius and 100 ml must be collected.
Dairy Water
Dairy water is regulated by the FDA. It must be collected and shipped to the laboratory on ice. Testing must be done within 30 hours of receipt and 100 ml must be collected. Samples must include a temperature control that is to be 0o to 4.4o Celsius. 
Milk
All fluid milk samples must be collected ascetically and delivered to the laboratory as soon as possible. The samples are placed in an ice-water mixture including a temperature control, but they must not be submerged. If submersion will happen, place the samples in a larger plastic bag and place that in the ice. The size of the pasteurized product sample for temperature control must be at least one-half the size of the largest sample being collected. Sufficient time must be allowed so the samples can be received and tested within the 48 to 72 hour time limit.
---
Food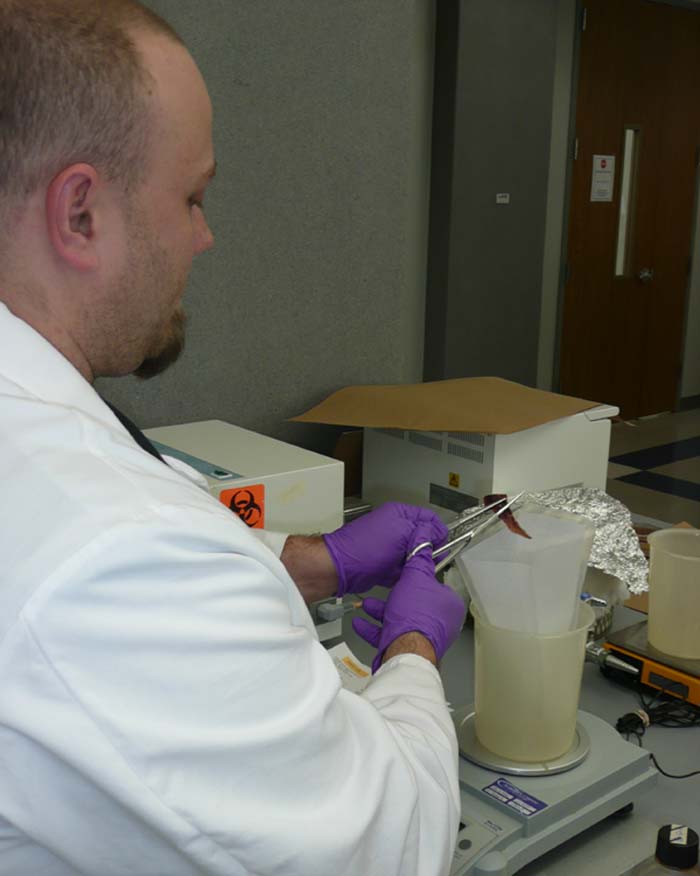 Food items should be refrigerated and maintained at 0o to 4o Celsius, until arrival at the laboratory. Whenever possible, submit samples to the laboratory in the original, unopened containers. If the original container is too large, transfer representative portions to sterile containers using asceptic technique. Dry or canned foods that are not perishable should be collected and shipped at ambient temperature. Frozen foods should be shipped frozen. Do not freeze refrigerated foods. Collect at least 100 grams of each sample unit. (100 grams = 3.53 ounces or 0.22 pounds)
Shellfish samples should be shucked and packed in crushed ice immediately and transported to the laboratory maintaining a temperature of 0o to 10o Celsius. Do not freeze. For red tide assays, collect at least 150 grams of oyster meat, drain, and freeze. Sample must be shipped overnight.
If you have any questions regarding the procedures you may email Monica Kingsley.