Data and Surveillance
Fact Sheets
Maps
Cancer Incidence and Mortality
To generate customized maps and tables of Texas cancer incidence or mortality rates, visit the Texas Cancer Registry web query tool.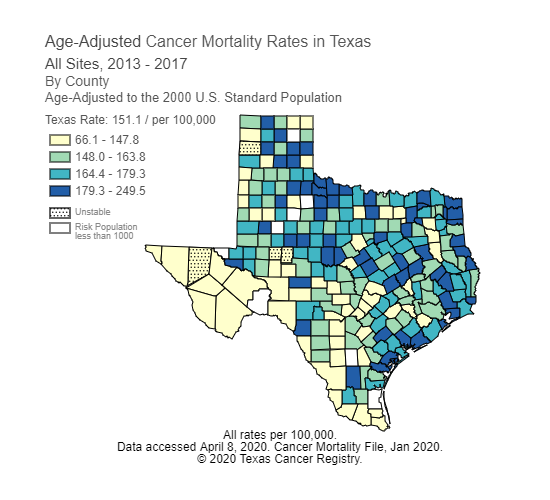 Hospital Discharges
Additional Resources
More data on cancer incidence and mortality, related risk factors, and more can be found at the following websites:
The Texas Cancer Registry (TCR) is a statewide, population-based registry that serves as the foundation for measuring the cancer burden in Texas. The purpose and ultimate goal of the TCR are to collect, maintain, and disseminate the highest quality cancer data that will contribute towards cancer prevention and control—improving diagnoses, treatment, survival, and quality of life for all cancer patients. 
The Texas Health Data query site contains public data and statistics on various health topics. The data are intended to help individuals and organizations plan and improve the delivery of services, evaluate healthcare systems, inform policy decisions, and aid in research.
American Cancer Society Cancer Statistics Center
The Cancer Statistics Center website is a comprehensive interactive resource for learning about the cancer burden in the United States. Produced by the American Cancer Society, the website provides detailed statistics on a range of topics including:
The estimated number of new cancer cases and deaths in the current year
Current cancer incidence, mortality, and survival rates and trends
State-level risk factor and screening metrics 
National Cancer Institute State Cancer Profiles
The State Cancer Profiles website brings together data that are collected from public health surveillance systems by using either their published reports or public use files. The objective of the website is to provide a system to characterize the cancer burden in a standardized manner in order to motivate action, integrate surveillance into cancer control planning, characterize areas and demographic groups, and expose health disparities. The focus is on cancer sites for which there are evidence-based control interventions.