Tobacco Prevention and Control Program - Texas Public Health Region 6/5 South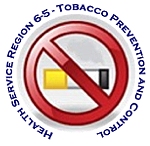 Tobacco Prevention and Control Program
5425 Polk St.
Suite 440 
Houston, TX 77023
713-767-3483

Purpose
The purpose of the Tobacco Prevention and Control Program is to reduce the toll of tobacco on the health, safety, and well-being of Texans.
Goals
To keep young Texans from ever starting tobacco use.
Supporting enforcement of tobacco laws.
Helping more Texans to quit smoking and stay smoke-free.
Eliminating exposure to secondhand smoke.
Reducing tobacco use among high-risk populations.

Developing and maintaining statewide capacity to support all of the above
Activities
Technical assistance and training to community organizations, schools, worksites, health professionals, and law enforcement agencies on tobacco use, prevention, and cessation.
A clearinghouse of information on tobacco use prevention issues.
Support Tobacco Prevention and Control Coalitions to prevent and reduce the harmful use of tobacco products in communities.
Free Information
Brochures and literature on various tobacco topics including cessation, secondhand smoke, smokeless tobacco, cigars, youth, worksite policy development, and school resources.
Quarterly Tobacco Information and Health Bulletin.
Tobacco prevention ordinances and laws.
Current research information and statistics. 
Promote Comprehensive Tobacco Prevention and Control Initiative through the following vehicles:
School programs
Community Programs
Coalitions
Cessation
Enforcement
Youth Programs
Help to foster a community environment that promotes tobacco prevention and control:
Identify and enlist community partners
Participate in and support local coalitions
Promote and support tobacco prevention and control policies, ordinances, and regulations
Promote tobacco prevention specific initiatives and observations such as Red Ribbon Week, Great American Smokeout, Kick Butts Day, and World No Tobacco Day
Assess overall initiative for effectiveness through evaluation
Set an example for the community
Toll-free number for those who wish to request tobacco information or to report illegal tobacco sales to youth:  1-800-345-8647 
Website
Department of State Health Services Tobacco Prevention and Control
---
If you have any comments or suggestions, please contact us.