Coalitions & Partners
DSHS funds organizations to create Tobacco Prevention and Control Coalitions (TPCCs) to prevent and reduce the harmful use of tobacco products in communities across Texas, particularly among youth. Coalitions are comprised of parents, teachers, youth, law enforcement, businesses, religious leaders, healthcare providers, and other community members who are working at the local level to make their communities safer, healthier, and tobacco-free.
The goal of the coalition program is to build long-lasting tobacco prevention activities and positive changes in local communities throughout Texas.  Since 2008, DSHS-funded coalitions have educated over 200,000 youth and 48,000 adults on the dangers of tobacco and ways to get involved in their community prevention efforts. 
---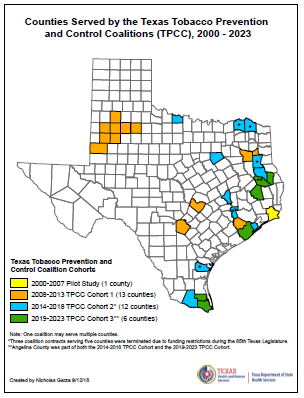 Current DSHS-funded coalitions are:
The Coalition, Inc. – Counties served: Angelina, Polk, and San Augustine
Bay Area Council on Drugs & Alcohol – County served: Brazoria 
Behavioral Health Solutions of South Texas – Counties served: Cameron and Willacy
---
Peers Against Tobacco 
Peers Against Tobacco is a system-level, multi-component tobacco prevention program for colleges and universities in the state of Texas. Established in 2014, the goal of the program is to reduce the use of tobacco and alternative tobacco products (e.g., electronic cigarettes, hookah) among college and university students, and ultimately, to change the overall tobacco landscape among Texas colleges and universities.
SAY WHAT! 
The Statewide Youth Advisory Board, also known as Teen Ambassadors, was established in 2000 and is comprised of 15-25 high school students from across Texas. Teen Ambassadors provide guidance on the statewide youth movement (SAY WHAT!) and are leaders in their community and throughout the state. They educate peers, adults, and stakeholders on the harmful effects of tobacco use. 

SAY WHAT! stands for Students, Adults, and Youth Working Hard Against Tobacco! Created in 2011, it is the statewide youth tobacco use prevention movement in Texas. This movement connects youth and adults working towards reducing tobacco use in Texas. As of July 2018, the SAY WHAT! program has reached over one million youth through statewide efforts, such as Regional Action Summits, Annual Youth Tobacco Prevention Conferences, and mini-grants kits.