Community Coalitions
The Texas Tobacco Prevention and Control Program funds community coalitions to implement comprehensive tobacco control efforts using the Centers for Disease Control and Prevention best practices and the Substance Abuse and Mental Health Administration's Strategic Prevention.
The purpose of the TPCCs is to prevent and reduce tobacco use in communities across Texas. The coalitions use evidence-based and coordinated community-level strategies to:
Provide education to youth and adults on the dangers of tobacco and nicotine products.
Promote cessation programs and services.
Promote smokefree environments.
Recruit youth to participate in statewide tobacco prevention youth programs.
Develop and maintain coalition capacity to support sustainable tobacco prevention and control work.
TPCCs are comprised of parents, teachers, youth, law enforcement, businesses, religious leaders, healthcare providers, and other community members who are working at the local level to make their communities safer, healthier, tobacco free, and smokefree.
The goal of the TPCCs is to build long-lasting and sustainable tobacco prevention and control efforts and positive changes in local communities throughout Texas. Since fiscal year 2008-2009, TPCCs have educated over 200,000 youth and 43,000 adults on the harms of tobacco use.
---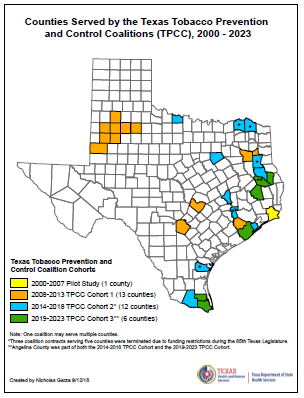 Fiscal Year 2019-2023 TPCCs:
Service Area: Angelina, Polk, and San Augustine Counties
Bay Area Council on Drugs & Alcohol
Service Area: Brazoria County
Behavioral Health Solutions of South Texas
Service Area: Cameron and Willacy Counties
Fiscal Year 2024-2028 TPCCs:
Alcohol and Drug Abuse Council of Deep East Texas
Service Area: Nacogdoches, Houston, Jasper, Shelby, and Tyler Counties
Service Area: Ellis and Johnson Counties
San Antonio Council on Alcohol and Drug Awareness
Service Area: Bexar County