Heirloom Birth Certificates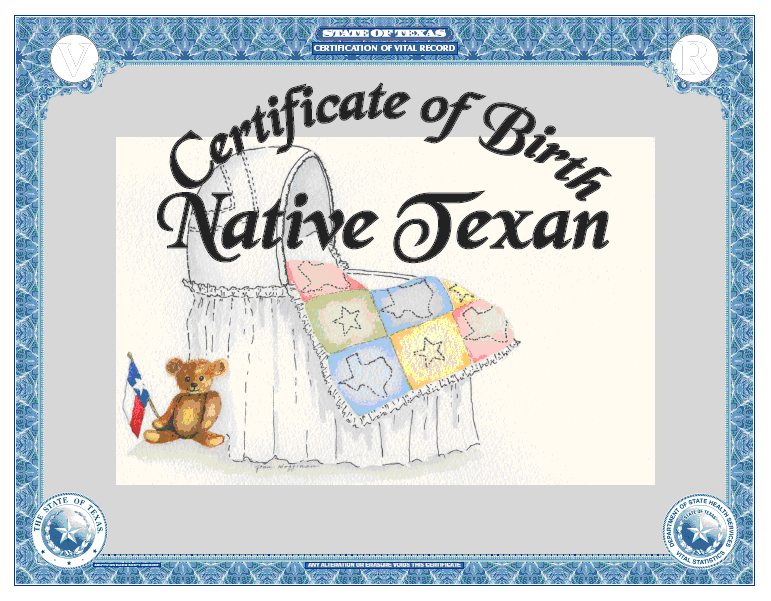 Bassinet Design
Whether you are a first- or fifth-generation Texan, you share a proud heritage of independence and individualism.  To celebrate this heritage, the Texas Legislature authorized the creation of an "heirloom" birth certificate, a legal birth certificate celebrating the unique heritage of being a native Texan. (An heirloom birth certificate is the equivalent of a short form birth certificate. See the Record Types page for more information.)
These 11" x 14" personalized certificates have a specially designed and engraved border and are printed on heirloom-quality paper with background security features and a gold embossed seal.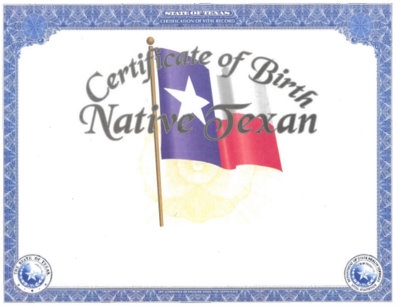 Flag Design
Ordering
Qualified persons can request an heirloom certificate by following the same instructions as those for requesting a certified copy of a birth certificate. See the Birth Records page for instructions and more information.
State law prevents issuance of this certificate to persons whose birth certificates were established by court order or delayed record procedures.