TB Data and Statistics
TB in Texas: An Overview
In 2021, 998 cases of tuberculosis (TB) were reported in Texas. This represents an increase of 12.5% from 2020 when 887 cases were reported. The Texas TB rate in 2021 was 3.4 per 100,000 persons. TB can affect anyone but is more common in people who:
Are born in a foreign country where TB is prevalent
Are living with diabetes or HIV/AIDS
Abuse alcohol and other drugs
Live in congregate settings (including prisons and other detention centers)
Experience homelessness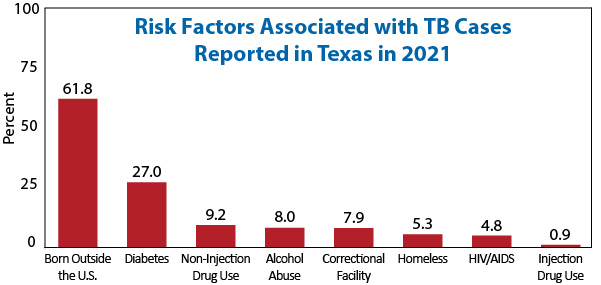 Tuberculosis is curable with appropriate treatment. However, some strains of TB are resistant to the standard drugs used to treat TB. In 2021, eight people in Texas were diagnosed with multidrug-resistant TB (MDR-TB), one person was diagnosed with pre-extensively drug resistant TB (pre-XDR), and one person was diagnosed with extensively drug-resistant TB (XDR-TB). XDR-TB is the most difficult form of TB to treat.
In Texas, the following groups reported cases of TB in 2021:
Hispanics of any race (52.1%)
Asians (21.5%)
African Americans (17.8%)
Whites (7.7%)
Multiple Race (0.4%)
Native Hawaiian or Other Pacific Islander (0.3%)
American Indian or Alaskan Native (0.1%)
TB rates are higher along the Texas-Mexico border. Co-infection with TB and diabetes is also more common along the border than in the rest of the state. Homelessness and TB/HIV co-infection are more common in larger urban areas of Texas.
 
Texas Counties with the Most TB Cases - 2021
Harris: 235
Dallas: 108
Bexar: 77
Tarrant: 59
Travis: 44
Fort Bend: 40
Cameron: 38
Hidalgo: 33
Collin: 31
El Paso: 38
Webb: 28
TDCJ*: 28

* Tuberculosis cases diagnosed among inmates under custody of the Texas Department of Criminal Justice (TDCJ) are attributed to the that agency. For more information about the geographic distribution of TDCJ units visit tdcj.texas.gov.