Epi Profile Section 1 - An Overview of Tuberculosis in Texas
In 2019, Texas reported 1,159 new tuberculosis (TB) cases, which represents 13.0% of the nation's total TB cases in 2019. Texas reports the second highest number of TB cases in the United States.
The Texas TB case rate in 2019 was 4.0 per 100,000 population, the fifth highest rate in the country, compared to 2.7 per 100,000 nationally.[1]
 
Figure 1. Number of TB Cases and TB Case Rate per 100,000 Population, Texas, 2009-2019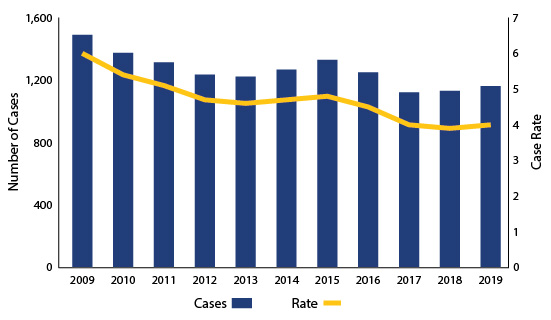 ---
1. Centers for Disease Control and Prevention (CDC). Reported Tuberculosis in the United States, 2019. Atlanta, GA: US Department of Health and Human Services, CDC; 2020.
---
Table of Contents | An Overview of Tuberculosis in Texas | Geographic Distribution of Tuberculosis in Texas | Affected Populations | Case Diagnosis | Recent Transmission | Mortality | Risk Factors Associated with Tuberculosis | Drug Resistant TB | Public Health Follow-Up Outcomes | Reporting Requirements | References
---