Environment Health Grants
DSHS Environmental Health related grants have allocated funds to support various environmental epidemiological projects within the scope of many areas relevant to animal, virological, bacteriological, and more services or deliverables defined in the statement of work.
Through environmental health-related grants, projects generally take a research-based approach by grantees to provide various work deliverables across many environmental health areas. Unlike other forms of grants, the broad scope of this form of grant allows grantees across many areas of public health to qualify and apply for grants and should contact the DSHS to determine if the proposed work fits the scope of these grants. Grantees should refer to their Statement of Work and present any work amendments to maintain the deliverable requirements of their contract.
Environmental Health grantees are held to the legal context of their contract, such that all DSHS funding can be subject to change due to the nature of overpayments, refunding issues, inconsistent or unapproved expenditures (Attachment B: Budget), or any work that may place DSHS mission at harm. It is up to the grantee to ensure any reporting documentation from project work is reported within the timeline set by the contract or risk penalties.
ALN 93.113 Environmental Health are project grants provided by the National Institute of Environmental Health Sciences to facilitate research and understanding of human health effects to the exposure of environmental agents.
*Assistance Listing Numbers (ALN), formerly the Catalog of Federal Domestic Assistance (CFDA).
Graphs and Tables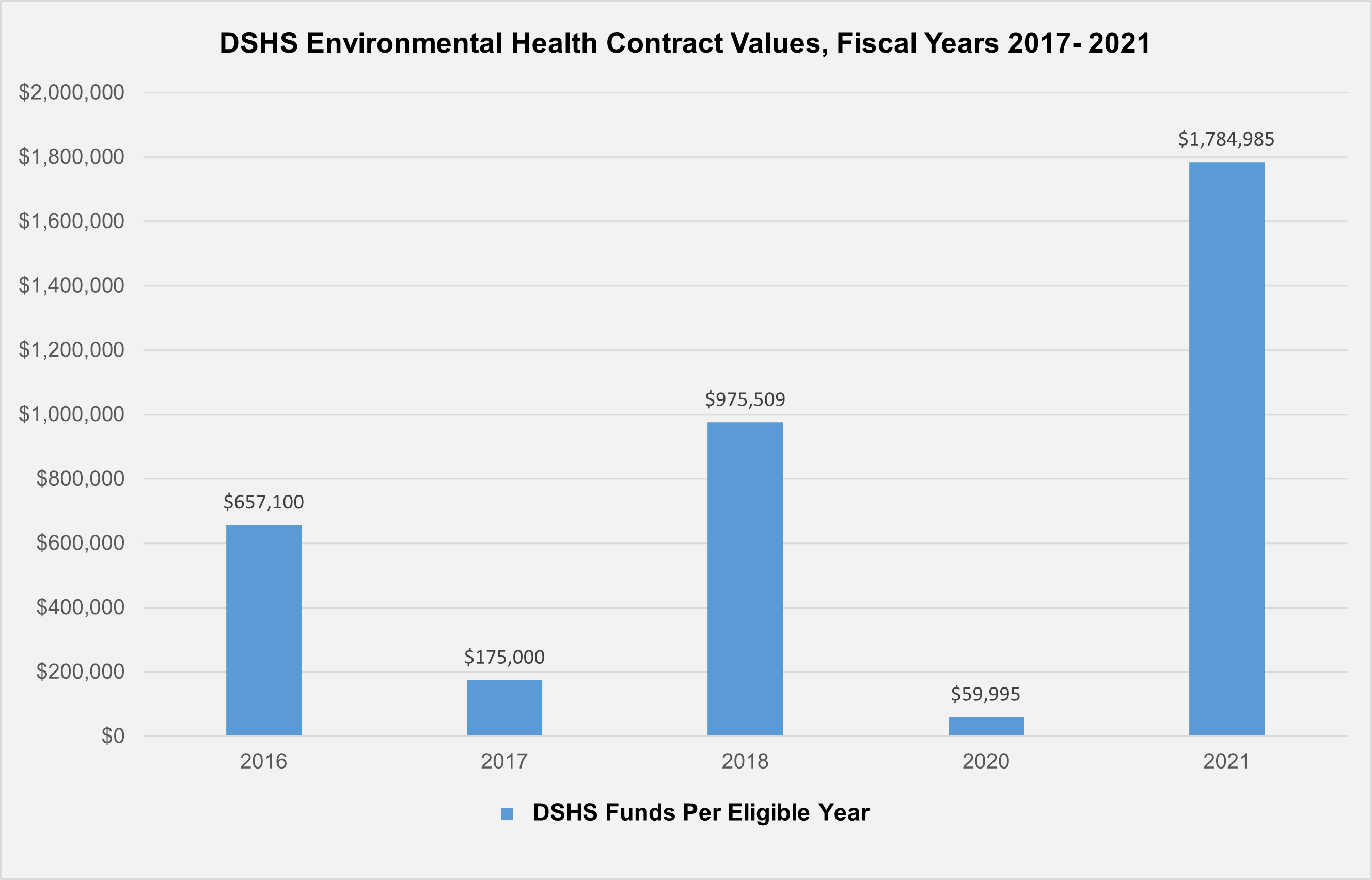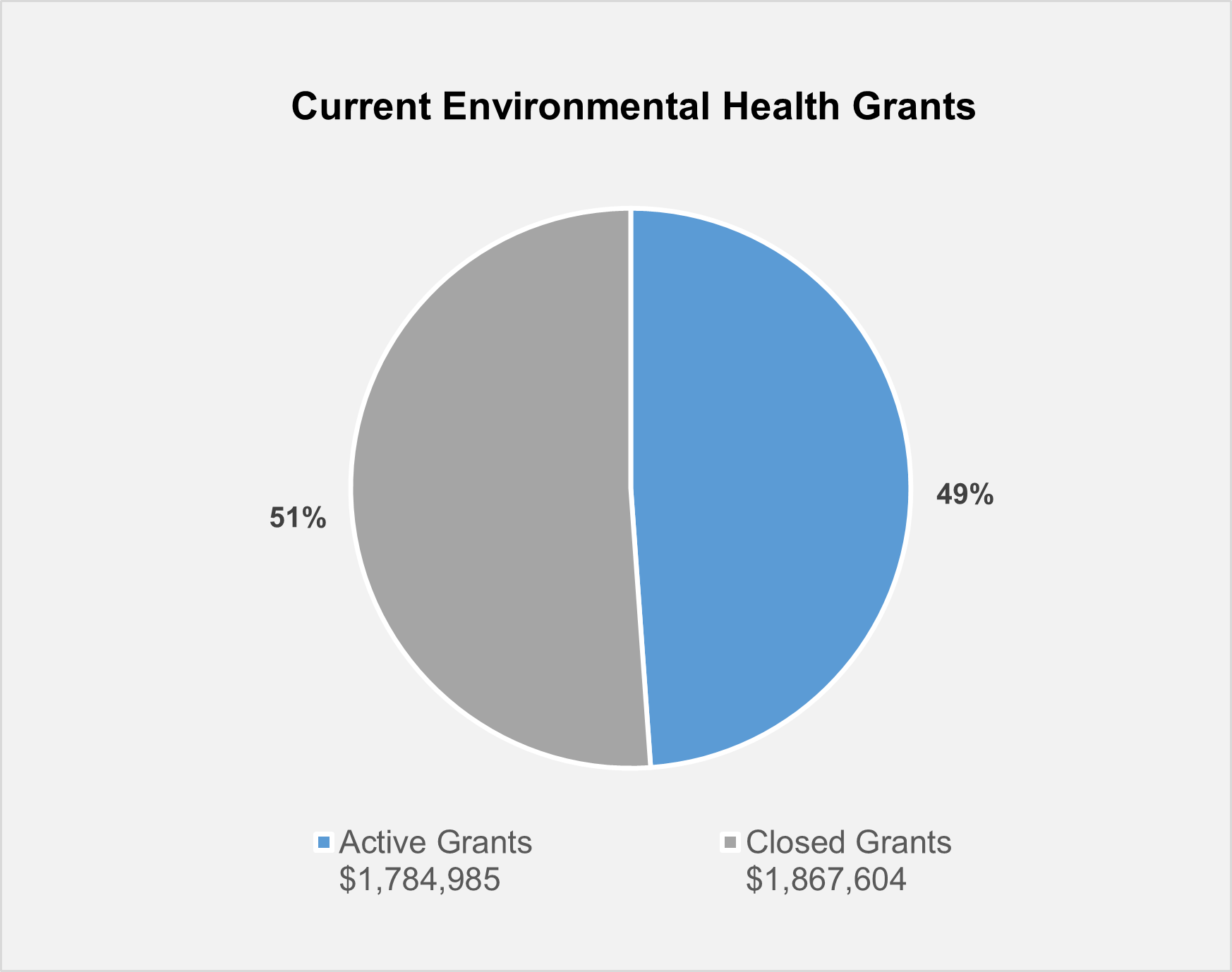 Requirements
Grantee shall request DSHS payment by prepping an invoice and documents to support for reimbursement of services and or deliverables. The grantee will request payments using the State of Texas Purchase Voucher (Form B-13). The grantee also will complete the Financial Status Report 269A Fand email it to the proper addresses found in the "Invoice and Payment" section of the grantee's contract, due within 45 days of the end date listed in the contract. Reimbursements will be released on a cost basis and in accordance with the budget (Attachment B) of the grantee's contract. Correct completion and programmatic reporting are required prior to payment of reimbursement funds.
Reporting Requirements
General provisions on reporting requirements
Grantee will bill system agency in accordance with grant agreement
Grantee shall submit requests for reimbursement or payment monthly by last business day following month in which they were incurred
Grantee shall maintain all documentation that substantiates invoices
If grantee expends at least $750,000 in federal funds awarded, grantee will have a single audit or program specific audit in accordance with 2 CFR 200, Part F; further information may be found at 2 CFR, Part F, 200.514.
If grantee expends at least $750,000 in state funds awarded, grantee will have a single audit or program specific audit in accordance with TxGMS; 2 CFR 200; and Government Audit Standards. Grantees should perform self-audits of program practices to ensure services are aligned with DSHS program standards, grantee contract agreement, and the TB Work plan; and to ensure all supporting documentation is prepared for progress reports, status reports, and match fund certification.
Additional cost principles, audit requirements, and administrative requirements
* UGMS was replaced by TxGMS on January 1, 2022. If a state awarding agency adds funds to a grant that existed before March 1, 2021, TxGMS will apply to it from that point forward. Unless the state awarding agency specifically indicates that TxGMS will not apply. For further information, visit Texas Comptroller Grant Management

| Applicable Entity | Applicable Cost Principles | Audit Requirements | Administrative Requirements |
| --- | --- | --- | --- |
| State, Local and Tribal Governments | 2 CFR, Part 225 | 2 CFR Part 200, Subpart F and UGMS | 2 CFR Part 200 and UGMS |
| Educational Institutions | 2 CFR, Part 220 | 2 CFR Part 200, Subpart F and UGMS | 2 CFR Part 200 and UGMS |
| Non-Profit Organizations | 2 CFR, Part 230 | 2 CFR Part 200, Subpart F and UGMS | 2 CFR Part 200 and UGMS |
| For-profit Organization other than a hospital and an organization named in OMB Circular A-122 (2 CFR Part, 230) as not subject to that circular | 48 CFR Part 31, Contract Cost Principles Procedures, or uniform cost accounting standards that comply with cost principles acceptable to the federal or state awarding agency | 2 CFR Part 200, Subpart F and UGMS | 2 CFR Part 200 and UGMS |
Get in Touch
Program Operations Division
Independent Fiscal Support and Oversight
Primary Contact: Olivia Harrell