Infectious Disease Prevention Grants
Background Information
DSHS Infectious Disease Prevention Section: The mission of this branch is to build a strong partnership between local, state, and federal partners to support the mission of promoting epidemiology, surveillance, education, risk stratification/communication and disease intervention. They work with local/regional offices to investigate acute infectious outbreaks and rare or unusual diseases.
Hansen's Disease Program: This is a skin infection affecting the skin and peripheral nerves, also known as leprosy. This disease is found in some animals and is transmitted through nasal secretion from infected persons with untreated diseases. Approximately 150 newly diagnosed individuals are diagnosed with leprosy each year. Texas is one of the states with the maximum number of leprosy cases.
Zoonosis Control Branch: This branch includes programs for investigating and controlling diseases that can be transmitted by animals to humans. This program relates to animal care, animals in disaster, animals in public settings, animal control, animal shelters and animal-friendly programs. They study the cause of disease, perform surveillance to find the path of occurrence of disease from animals to humans.
Immunization-Related Grants: DSHS Immunization related grants have a budget to support the scope of work that typically provides funding for clinical and administrative salaries, employee fringe benefits, supplies (medical, office), contractual services, and in some cases, equipment as well. Many of the Immunization related grants do generate Program Income (PI) via client's copays or through third-party payments.
HIV-related grants are handled in the TB-HIV-STD program, not the Infectious Disease Prevention program.
ALN Information
*Assistance Listing Numbers (ALN), formerly the Catalog of Federal Domestic Assistance (CFDA).
The purpose of grants funded through Epidemiology and Laboratory Capacity for Infectious Diseases (ELC) ALN 93.323 is to assist public health agencies in detecting, responding, preventing, and controlling known or emerging infectious diseases. Funds can be used for the following purposes:
To strengthen epidemiologic capacity.
To enhance laboratory capacity.
To improve health information systems.
To enhance collaboration among public health departments' epidemiology, laboratory, and information systems components.
 Since 2020, many DSHS grants funded through the Epidemiology and Laboratory Capacity for Infectious Diseases have been used for Covid-19 pandemic-related activities.
The purpose of grants funded through Immunization Cooperative Agreements ALN 93.268 is to establish and maintain programs to immunize people against vaccine-preventable diseases, including Covid-19.
Graphs and Tables
Grants managed by the Infectious Disease Prevention department have the following purposes: Hansen's Disease, Infectious Disease Surveillance, Laboratory Services, and GPO-Premier (equipment and maintenance). The following chart shows the percentage of contracts used for each purpose.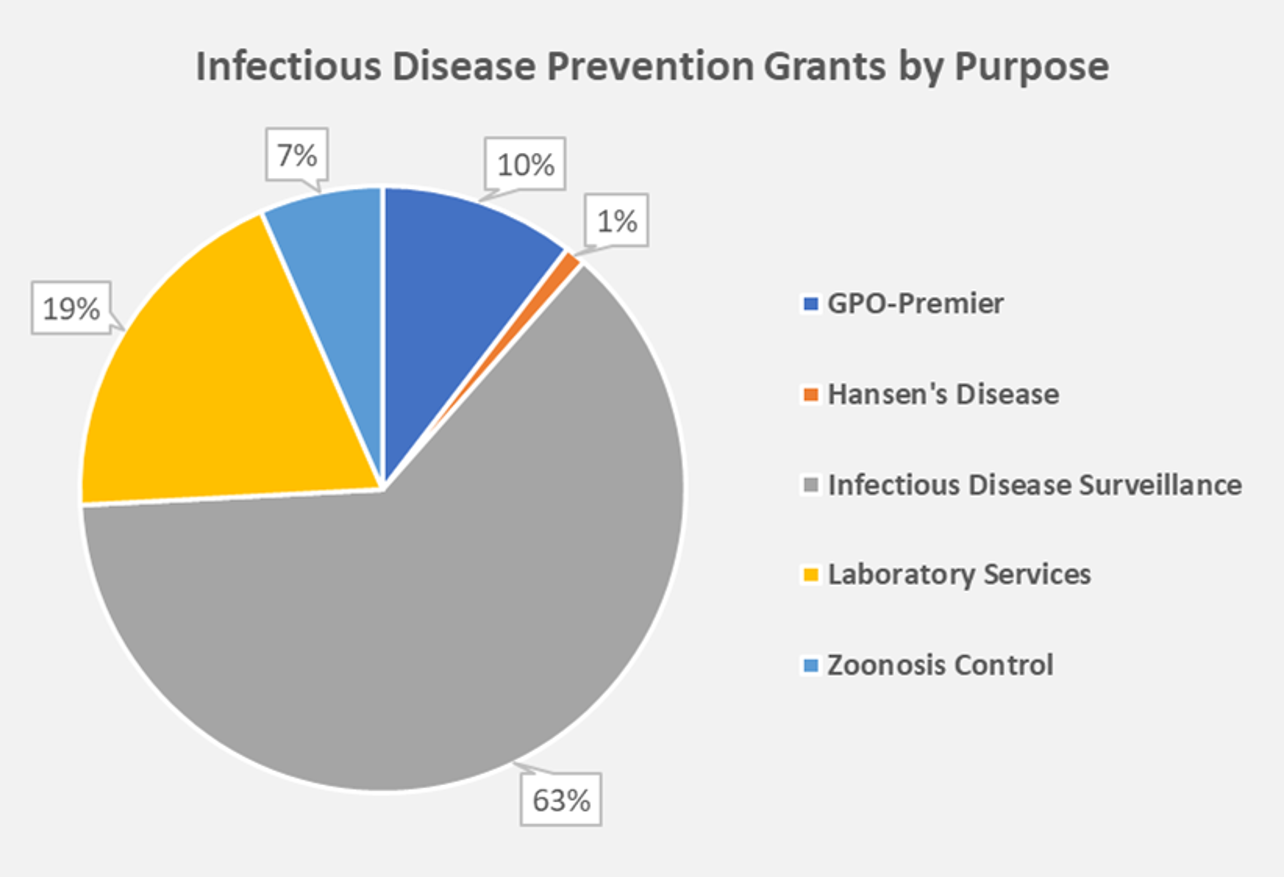 As of 2022, 63% of the contracts are used for Infectious Disease Surveillance. ALN 93.268 and ALN 93.323 Infectious Disease Prevention grants have provided total assistance of $3,645,586,908 (about $11 per person in the US) since 2019 (The Tracking Accountability in Government Grants System (TAGGS)).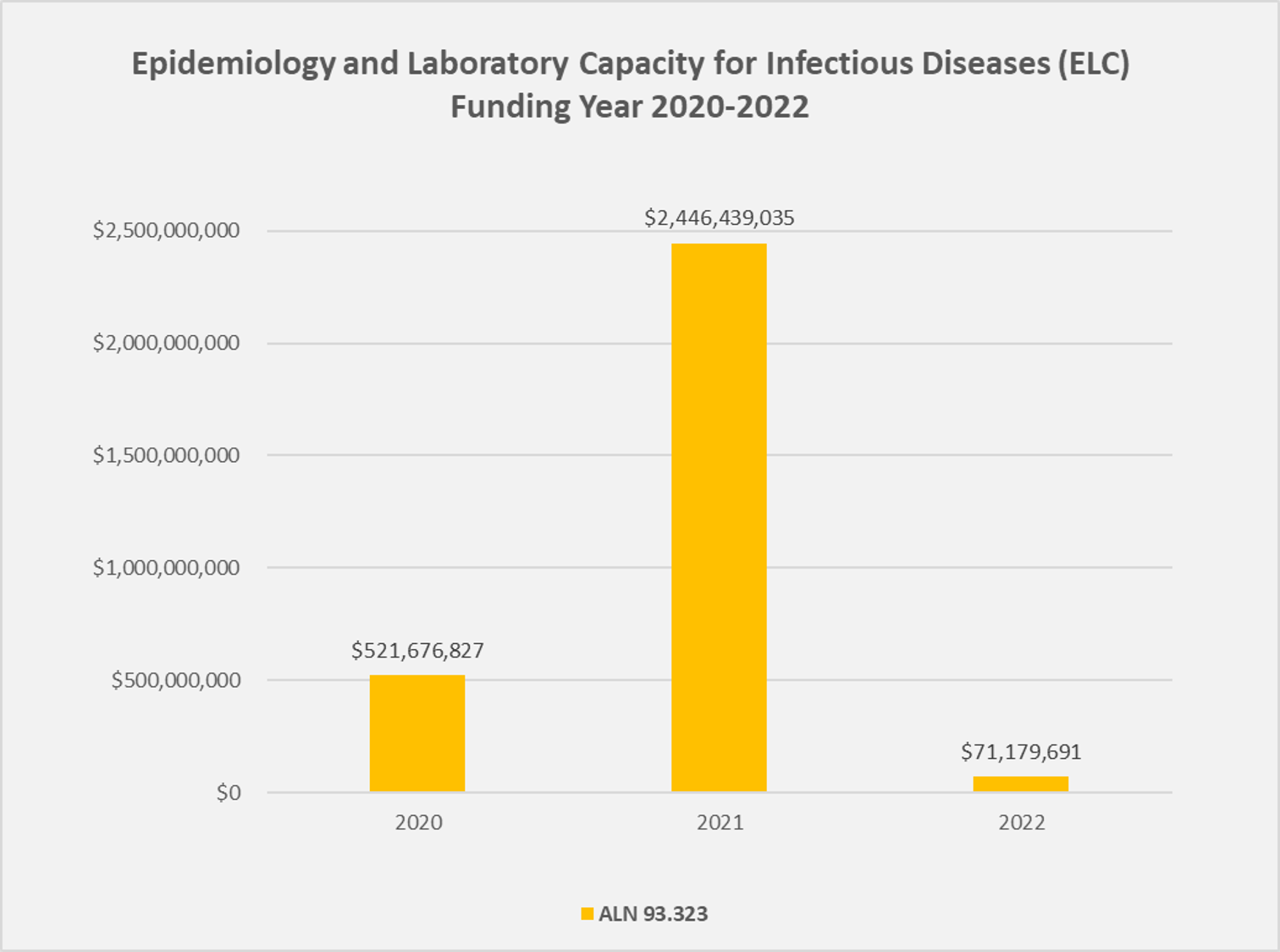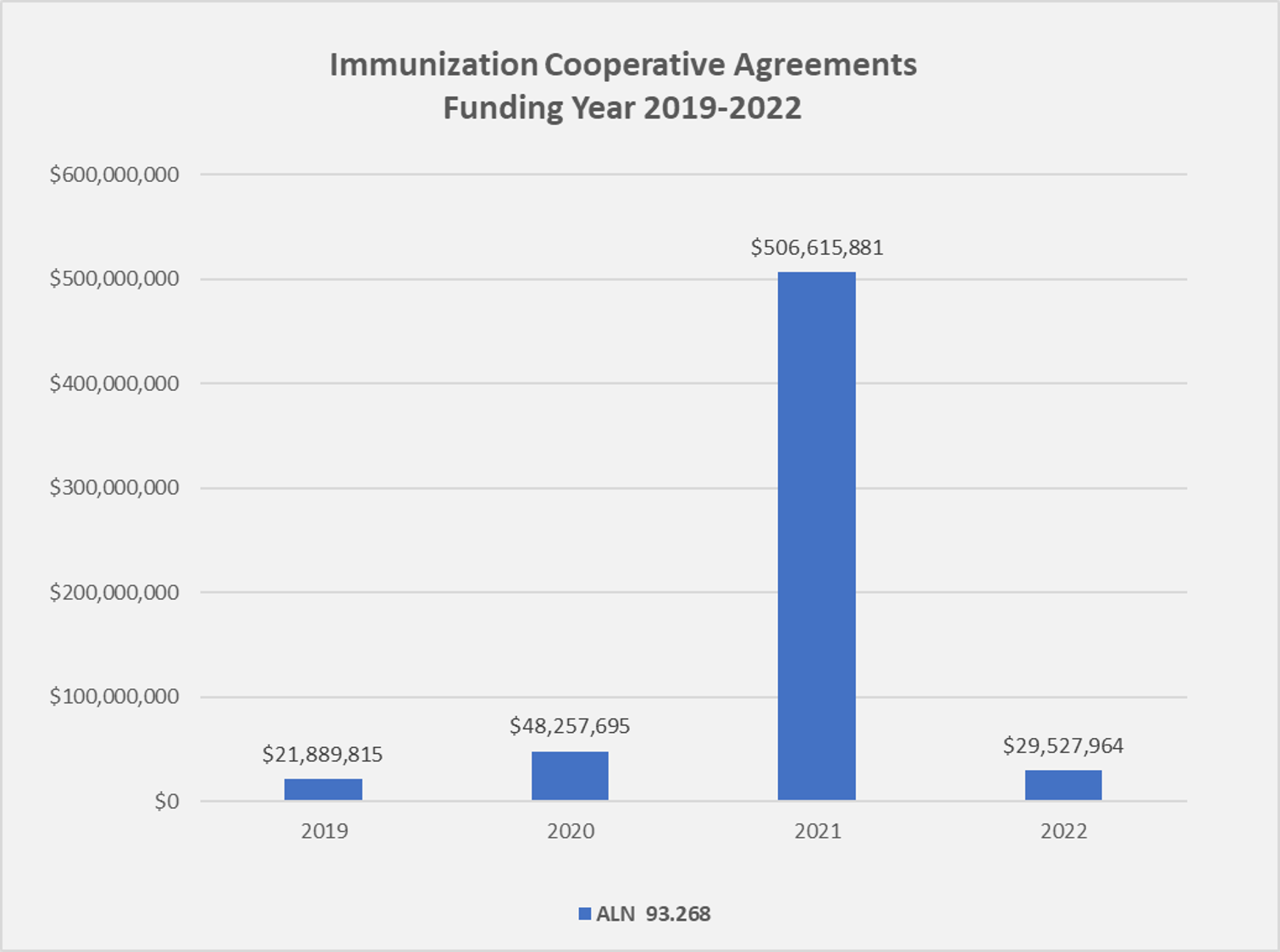 The following graph shows the breakdown of Infectious Disease Prevention grants funded by the federal government vs. the state government.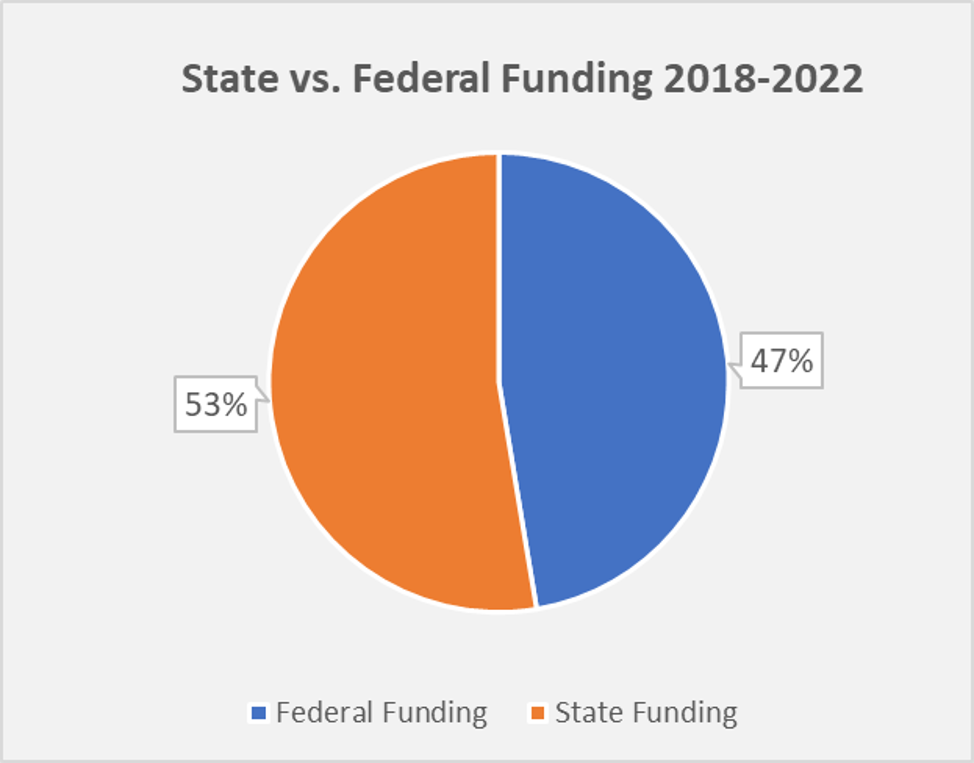 Requirements for Grantees
For federally funded grant programs, grant records must comply with federal financial management regulations issued by the uniform grant guidance (UGG) and Texas grant management standards (TxGMS), depending upon the originating funding sources. Title 2 part 200 of the 2CFR200 guides the administrative aspect of the federal awards and sub-awards to all non-federal entities.
HHS utilizes TxGMS as the authority for state-funded grant awards. For grant programs wholly funded by the state, a local government grantee under a grant from DSHS must comply with the following Standard Financial Management Conditions as required by Chapter 783 of the Texas Government Code.