POPS Chapter 16 - Routine HIV Screening in Healthcare Settings
---
Subchapters
16.1 Screening Recommendations and Guidelines
16.2 HIV Screening/Testing Technology
16.3 Standing Delegation Orders
16.7 Notification of Test Results
16.8 Referral/Linkage to HIV-related Medical Care 
16.9 Confirmation of HIV-related Medical Care 
---
Purpose: Routine HIV screening in healthcare settings complements traditional focused testing and other HIV prevention program activities. Routine HIV screening may be contrasted with risk-based, or diagnostic testing, which is offered only to persons who meet certain criteria, such as assessed risk or symptomology. The primary goal of the DSHS Routine HIV screening program is to identify undiagnosed HIV and reduce missed opportunities, promote early identification of HIV infection, identify persons living with HIV (PLWH) who are out of care, and increase the proportion of PLWH in Texas who are participating in HIV-related medical care. For individuals who are HIV negative and who are vulnerable to acquiring HIV the program also offers education and referrals for biomedical interventions including PrEP and nPEP. Just as important, the implementation of integrated, sustainable routine HIV screening in healthcare settings provides the opportunity to educate and change how clinicians and patients view HIV, addressing the stigma and bias that continues to drive the epidemic. The program strives to ensure all PLWH identified through routine screening activities are successfully linked to and retained in HIV medical care services.
Routine HIV Screening is defined as HIV screening that is integrated into the healthcare services of the facility and conducted as a standard of clinical care according to Centers of Disease Control and Prevention (CDC) recommendations for HIV testing in healthcare settings of all eligible patients, or in accordance with the United States Preventive Services Task Force (USPSTF) Grade A Recommendations, unless the patient opts out. Patient consent is inferred unless the patient specifically declines the test.
 
16.1 Screening Recommendations and Guidelines
Ensure routine HIV screening is integrated and carried out as a standard of clinical care in accordance with the recommendations published by the Centers for Disease Control and Prevention and/or the U.S. Preventive Services Task Force. Ensure eligible patients are screened according to the CDC or USPSTF Recommendations and Guidelines. Refer to the following sources:
Contractors are required to develop and submit policies and procedures to DSHS for review and approval.
 
16.2 HIV Screening/Testing Technology
Conventional, blood-based testing is the preferred method to conduct HIV screening activities in healthcare settings.
Conventional HIV testing on serum or plasma, should be performed according to the 2014 Centers for Disease Control and Prevention (CDC) and the Association of Public Health Laboratories (APHL) published recommendations for the laboratory diagnosis of HIV infection. Refer to the revised Recommended Laboratory HIV Testing algorithm for Serum or Plasma Specimens below, updated January 2018.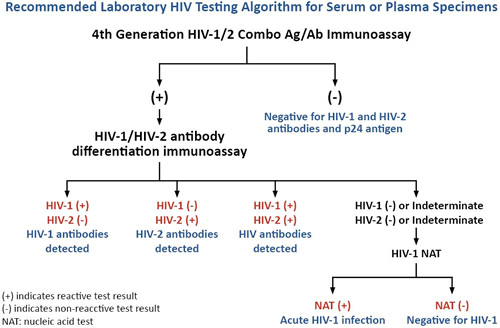 The initial screening should be conducted using an FDA-approved antigen/antibody immunoassay that detects HIV-1 and HIV-2 antibodies and HIV-1 p24 antigen to screen for established HIV-1 and HIV-2 infection and for acute HIV-1 infection, respectively.

No further testing is required for specimens that are non-reactive on this initial immunoassay.
 
Specimens with a reactive antigen/antibody immunoassay result should be tested with an FDA-approved supplemental antibody immunoassay that differentiates HIV-1 antibodies from HIV-2 antibodies.  On August 12, 2016, the CDC published a Technical Update on HIV-1/2 Differentiation Assays, stating there is only one FDA-approved HIV-1/HIV-2 antibody differentiation immunoassay for supplemental testing that continues to be manufactured; the Geenius HIV-1/HIV-2 Supplemental Assay replaced the previously available Multispot assay.
 
Reactive results on the initial antigen/antibody immunoassay and the HIV-1/HIV-2 antibody supplemental immunoassay should be interpreted as positive for HIV-1 antibodies, HIV-2 antibodies, or HIV antibodies, untypable (undifferentiated).
 
Specimens that are reactive on the initial antigen/antibody immunoassay, and non-reactive or indeterminate on the supplemental HIV-1/HIV-2 antibody differentiation immunoassay, should be tested with an FDA-approved qualitative HIV-1 nucleic acid test (NAT), i.e., Aptima. A quantitative viral load may be ordered instead to confirm HIV but requires a separate order as it is not included in the CDC/APHL HIV testing algorithm; note the viral load requires plasma.
Diagnosing Acute Infection: After a client has acquired HIV-1, there is a 10 to 33-day eclipse, or window period, the time between the HIV exposure and when a test can diagnose HIV infection. Symptoms of acute HIV may include but are not limited to fever, lymphadenopathy, and sore throat and can occur during the window period for HIV tests including Ag/Ab and IgG/IgM sensitive antibody tests; however, not all patients will exhibit symptoms. Note these are considered diagnostic tests and would not be considered a screening event
Interpretations of HIV-1 nucleic acid tests results follow:
A reactive HIV-1 NAT result combined with a non-reactive or indeterminate HIV-1/HIV-2 antibody differentiation immunoassay would indicate acute HIV-1 infection.
 
A negative HIV-1 NAT result combined with a non-reactive or HIV-1 indeterminate antibody differentiation immunoassay result would indicate an HIV-1 false-positive.
 
A negative HIV-1 NAT result and repeatedly HIV-2 indeterminate or HIV indeterminate antibody differentiation immunoassay result should be referred for testing with a different validated supplemental HIV-2 test (antibody test or NAT) or repeat the algorithm in 2 to 4 weeks, starting with an antigen/antibody immunoassay.
 
16.3 Standing Delegation Orders
In accordance with Health and Safety Code (HSC) §85.085 physician supervision of medical care is required if routine HIV screening services are ordered by a nurse or other medical staff without prescriptive authority. All providers licensed to practice medicine in the United States with prescriptive authority including Doctor of Medicine (MD), Doctor of Osteopathic Medicine (DO), Physician Assistants, and Nurse Practitioners can order HIV testing and related medical services.
 
16.4 Confidentiality
All patient and partner information are confidential, regardless of if the patient is tested confidentially or declines testing. At minimum, all staff providing medical services to patients, including HIV screening, are expected to maintain and demonstrate a high level of confidentiality regarding patient information and strictly adhere to the policies and procedures of their agencies. Releasing test results, or any information to unauthorized persons, which leads to the disclosure of a patient's identity is a breach of confidentiality and punishable by applicable statutes and administrative regulations.
Violation: In accordance with Health and Safety Code HSC §81.103 Confidentiality; Criminal Penalty breach of confidentiality is a Class A misdemeanor and is punishable by up to one year in jail and fines of up to $5,000. Violation of confidentiality is also a civil offense that may result in liability for damages plus fines.
 
16.5 Consent for HIV Testing
Consent for routine, opt-out HIV screening must be obtained in accordance with Texas law, Health and Safety Code §81.105 and §81.106. Note routine HIV screening does not require a separate signed consent form to test for HIV; general consent and documentation of informed consent, either in writing or verbally, are sufficient. Patient consent is inferred unless the patient specifically declines the test. Minors who have the capacity to consent may also consent to HIV testing. For specific information related to Texas law on consent, refer to Texas Health and Safety Code:
16.6 HIV Reporting
HIV is a reportable disease under Texas Law; physicians, or a designee, and laboratories are required to report any case of HIV and AIDS according to Texas Administrative Code, Title 25, Part 1, Chapter 97, Subchapter F, Rules §97.131-§97.134. To learn more about reporting HIV, visit the DSHS HIV/STD disease reporting page.
Ensure that HIV positive results are reported to the appropriate local/regional health authority in accordance with Texas Health and Safety Code Chapter 81.043-44 and TAC 97. 133 - 134.
Case report forms can be ordered from your local reporting authority. Due to concerns about potential for misuse, case report forms are not available online.
To report a positive HIV test result, submit a completed Adult HIV/AIDS Confidential Case Report Form (DSHS Stock No. ER13-13674) to your local reporting authority within seven calendar days.
Acute HIV cases must be reported by phone within one working day. For more information, see the DSHS HIV/STD Disease Reporting page.
Violation: In accordance with Health and Safety Code HSC §81.049 Failure to Report; Criminal Penalty failure to report a reportable disease or health condition is a Class B misdemeanor and may result in fines and incarceration of up to six months.
 
16.7 Notification of Test Results
Notification of negative HIV tests results in healthcare settings can be delivered as any other test result, including the practice "no news is good news."
Timely notification of positive HIV test results must be provided to the patient in accordance with Texas Health and Safety Code Chapter 81.109. Texas law requires that people receiving a positive HIV test result be given the opportunity for immediate, face-to-face counseling related to:
the meaning of the test and the possible need for further testing,
how to prevent transmission of HIV to others,
how to access available resources, and
the benefits of partner notification and availability of notification services for patients.
To ensure patients receive expedited notification services by Disease Intervention Specialists (DIS) when necessary, establish a formal relationship with the local or regional public health authority for purposes of the provision of effective public health follow-up (i.e. results notification, interviewing, counseling, case investigation, partner elicitation, and partner notification). This is especially important when the patient has already left the facility, and the program is not able to locate/contact the patient to come back to discuss test results.
A DIS is a public health professional who regularly delivers positive test results and post-test counseling to limit further spread of communicable disease, including HIV. Depending on resources in your area, the DIS will readily step in to provide test results to any patient if requested.
In addition to test results notification, DIS perform other critical partner services including:
Partner notification, a process through which persons diagnosed with HIV are interviewed to elicit information about their partners, who can then be confidentially notified of their possible exposure or potential risk;
Provide education about prevention options;
Testing for HIV and other types of STDs (not necessarily limited to syphilis, gonorrhea, and chlamydial infection);
Treatment or linkage to medical care;
Linkage or referral to other prevention services; and
Other services (e.g., biomedical interventions including PrEP and nPEP, reproductive health services, prenatal care, substance use disorder treatment, social support, housing assistance, legal services, and mental health services).
Learn more about the DIS role in the fact sheet Helping Texas Clinicians Achieve Disease Intervention. To learn more about delivering positive HIV test results, see the DSHS brochure HIV/STD Partner Services: The Health Provider's Role. CDC also provides guidance in Recommendations for Partner Services Programs for HIV Infection, Syphilis, Gonorrhea, and Chlamydial Infection.
 
16.8 Referral/Linkage to HIV-related Medical Care
Persons living with HIV have a higher quality of life and a better prognosis when they are actively engaged in care. An expedited referral to an HIV specialist and follow-up treatment can improve the health outcomes of your patients. Early Intervention Services and rapid ART initiation will help your patients achieve viral suppression more quickly and may improve maintenance in care.
DSHS contractors are required to work with each patient diagnosed with HIV to:
establish an HIV-related medical care appointment;
follow up with the client, prepare client for medical care; and
confirm the client attended the appointment.
DSHS contractors must immediately link persons to HIV medical care.  This applies to individuals newly diagnosed as well as those previously diagnosed and not currently in HIV-related medical care. Contractors must ensure client confidentiality is always maintained while attempting to link persons to care.
To enhance the referral process, identify at least one (1) local HIV medical provider or organization to establish formal, written agreements and protocols to ensure referral/coordination of medical care for all patients identified through screening.
16.9 Confirmation of HIV-related Medical Care
Confirmation of medical appointments must be with a medical provider with prescriptive authority, who will perform an assessment of the patient's current health and prescribe HIV medication as appropriate; the appointment must be attended within the first three (3) months of diagnosis.
Confirmation of medical care is evidenced by:
Verbal or written confirmation from the medical provider
Medical appointment confirmation in an electronic health reporting system;
CD4 or viral load test with confirmation of a medical appointment;
Confirmation from an intermediate provider, such as DIS or case manager; or
Self-report from the client.
16.10 Quality Assurance
Contractors must ensure that performance of activities are of a high quality, in full compliance with all the requirements and align with the Routine Screening Program Quality Management Core Tool.
Quality Assurance self-audits shall be conducted each fiscal year at all screening sites using the HIV/STD Prevention and Care Branch, Routine Screening Program Quality Management Core Tool; refer to QA Core Tool Instructions.
Documentation of self–audits, the corrective action plan, and implementation of the corrective action plan shall be kept on file for a minimum of three (3) years following the date of the self-audits. All documentation shall be made available to the DSHS program staff for review.
16.10.1 Staff Training
Contractors must maintain policies and procedures to address training requirements. Written, step-by-step instructions for performing an HIV test (with all testing technologies available at the agency) should be made available to all testing personnel.
Contractors must implement an orientation plan for new staff and annual training requirements for all staff. Staff are expected to maintain and demonstrate a high level of confidentiality regarding client information, and strictly adhere to the policies and procedures of their agencies.
Staff must meet DSHS training requirements.
16.11 Payer of Last Resort
Annual HIV screening is covered for patients with a payer according to the United States Preventive Services Task Force Grade A Recommendations. The following resources include information about billing and reimbursement codes.
For more information and how to order HIV/STD education materials available from DSHS go to the educational materials page.
List of Resources, Guidelines, and Recommendations Relevant to Chapter 16
Department of State Health Services, HIV/STD Program, Routine HIV Screening Contractors Page 
Test Texas HIV Coalition Essential Resources to Implement Routine Screening in Healthcare Settings 
Routine HIV Testing as a Standard of Care Implementation Checklist