Public Health Region 6/5S- Community Health Services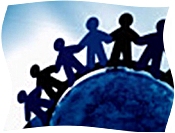 Community Health Services 
5425 Polk St. Suite J
Mail Code 1906
Houston, TX 77023
713-767-3005 | Fax: 713-767-3024
Purpose
Public Health Region 6/5 South's Community Health Services has population-based services. These services are for counties not served by a local health department. The Community Health Team works together to address the essential public health services in each county. The Community Health Team is composed of three programs:
Maternal and Child Health (Title V)
Oral Health Program
Tobacco Prevention and Control Program
Essential Public Health Services
 

Monitor health status,
Diagnose and investigate community health problems,
Inform, educate, and empower the community,
Mobilize community partnerships,
Develop policies and plans that support individual and community effort,
Enforce laws and rules that protect the public health and ensure safety,
Link individuals to appropriate community and private providers,
Ensure a competent public health workforce,
Research new insights and innovative solutions, and
Evaluate the effectiveness population-based health services in a community.
Community Health Services Programs
Additional Resources
---
If you have any comments or suggestions, please contact us.