Child Passenger Safety Law in Texas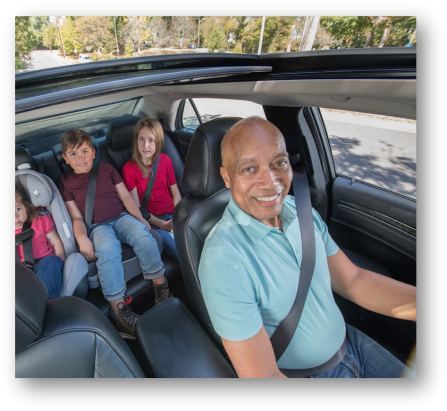 Child Passenger Safety Seat Systems (Transportation Code 545.412):
It is an offense if a person transports a child who is younger than eight (8) - unless the child is taller than 4 feet 9 inches - and does not keep the child secured. Use a child passenger safety seat system while driving your vehicle. Follow the manufacturer's instructions.
Definitions:
"Passenger vehicle" means a passenger car, light truck, sport utility vehicle, or passenger van designed to transport 15 or fewer passengers, including the driver.
"Child passenger safety seat system" means an infant or child passenger restraint system that meets the federal standards for crash-tested restraint systems as set by the National Highway Traffic Safety Administration.  
You can view the child passenger safety law in the Texas transportation codes by visiting statutes.capitol.texas.gov.
To view Texas Occupant Restraint Laws, visit the Texas Department of Public Safety website.
The Texas Department of State Health Services provides external links to other sites for additional information but does not endorse external links. These external links may not be accessible to individuals with disabilities.