Child Safety Seat Distribution and Education Program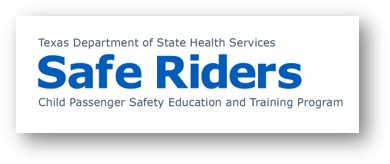 ​Safe Riders partners with programs in Texas to educate about child passenger safety and give child safety seats (CSS) to families in need. Safe Riders refers families to established distribution sites in their local community.
Safe Riders goal
Safe Riders wants to:
Reduce motor vehicle crash (MVC) injuries and fatalities to unrestrained Texas children;
Serve as an education and training resource for distribution partners; and
Help build program capacity and sustainability.
The program is available to eligible recipients and is available in many, but not all, areas of Texas.
---
Eligibility requirements for receiving a seat:
A family must be low-income or must be experiencing financial hardship.
Primary caregivers must attend an educational session.
Pregnant women must be in their third trimester.
Safe Riders cannot provide more than one seat per child. (Example: for additional vehicles or caregivers).
The parent / caregiver should make an appointment for each child in the household that needs a safety seat.
Please find an overview of the Safe Riders program here.
Find a distribution site near you (map) or call Safe Riders at 800-252-8255 or email saferiders@dshs.texas.gov for more information or to find a distribution program site near you.