EMS Careers and Scholarships

Life Saving. Life Changing. Start a career in Emergency Medical Services (EMS).
---
Videos
Texas EMS – Life Saving. Life Changing Commercial (30 Secs)
What I Love Most About EMS (30 Secs)
EMS Career Path Infographic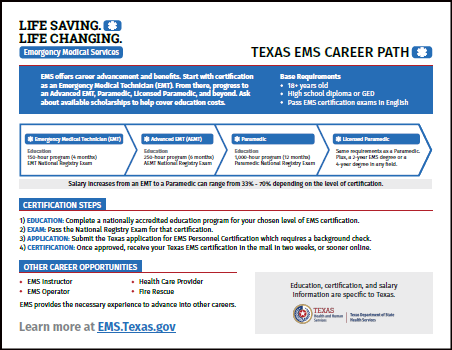 Start a career in EMS in only 4 months. Education and certification requirements.
EMS Education
Complete an EMS education program or online training. Use the rosters below to search for DSHS (and nationally) approved programs and courses.
EMS Exam
Once your education is complete, pass the National Registry Exam for that level of EMS certification.
 Find Scholarships
Texas Regional Advisory Councils (RACs) manage EMS and trauma services across the state.
Contact your RAC to apply for a Texas SB8 EMS Scholarship. Use scholarship funds to help cover your education costs. Contact the RAC by their service area.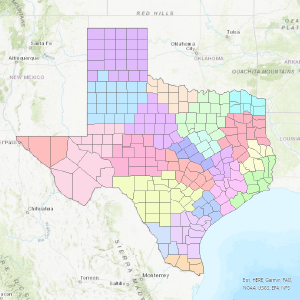 Step 1.  Use this map to CONTACT YOUR REGIONAL ADVISORY COUNCIL (RAC).
Step 2. Click on an area of interest to see contact info for the servicing RAC.
Step 3. Call or email the RAC. Ask about EMS scholarships, jobs and volunteer openings.
Texas Senate Bill 8 (SB8) EMS Scholarships
Texas SB8 EMS Scholarships were created when the Texas Legislature set aside funds to educate and train EMS personnel. Texas Regional Advisory Councils (RACs) are tasked with distributing these limited scholarship funds. FAQs on Texas SB8 EMS Scholarships.
Scholarship levels:
$2,000.00 per student that completes an Emergency Medical Technicians (EMT) class including books, materials and one NREMT exam fee.
$3,200.00 per student that completes an Advanced EMS (AEMT) class including books, materials and one NREMT exam fee.
$8,000.00 per student that completes a Paramedic class including books, materials and one NREMT exam fee.
Students must commit to serving:
For the $2,000.00 scholarship – One year as an Emergency Medical Technician (EMT)
For the $3,200.00 – Two years as an Advanced Emergency Medical Technician (AEMT)
For the $8,000.00 scholarship – Two years as a Paramedic if upgrading your certification
For all scholarships – Within 90 days of completing a DSHS approved EMS course, students must:

Pass the National Registry examination
Complete the state certification process
Begin working or volunteering for a DSHS licensed EMS Provider
To learn more, view FAQs on Texas SB8 EMS Scholarships.
To apply, contact state RACs for available Texas SB8 EMS Scholarships.
Scholarships are provided by the Department of State Health Services to Regional Advisory Councils (RACs) for distribution to licensed EMS providers or licensed EMS Education programs. Scholarships are available based on documented need, with special attention given to rural and underserved areas within Texas.
Related Resources
View Playbook
Emergency Medical Services (EMS) Workforce Recruitment and Retention Playbook
Special Edition
Texas EMS Trauma News - Senate Bill 8
In Texas, there are almost 800 EMS agencies, staffing over 72,000 responding professionals, on over 5,000 ambulances.
EMS Certification
Follow the steps in the links below to obtain your certification in Texas.
EMS Jobs
Emergency Medical Services in Texas are supported by both paid and volunteer personnel. Find available EMS jobs and volunteer opportunities. Use the Texas Workforce Commission website or contact EMS providers in your area.
In EMS, you can work full-time, part-time, or volunteer to support your community's emergency health care needs. It's a career in high demand where you can grow your knowledge and expand your personal worth in a fast-paced setting.
Top Reasons People Work in EMS:
Great way to serve people and your community.
Camaraderie and sense of family within the EMS system.
Competitive salaries and benefits.
Provides the necessary experience to advance into other careers.     
EMS Career Advantages:
Become certified and start work in as little as 4 months.
Stable job security because there is always a need in our communities.
Advancement from an EMT to a Licensed Paramedic.
Average EMS salary in Texas is $60,000 annually, and continues to increase.
Hear first-hand from Texas EMS personnel. Explore their careers, how they got started, and what it's like in EMS.
Adam, Licensed Flight Paramedic
Adam describes working as a flight paramedic and ways to get involved to start an EMS career.
Aubrey, Paramedic
Aubrey shares how it's empowering to serve in EMS and opportunities to give back to the community.
Darcy, Emergency Medical Technician
Darcy talks about starting in EMS in high school and resources available to practicing personnel.
Mike, Emergency Medical Technician
Mike explores EMS career path options and flexibility within the work schedule.
Gilberto, Flight Paramedic
Gilberto discusses moving from military service into EMS and continuing to serve the community.
Gilberto, Flight Paramedic (ES)
Gilberto habla sobre su transición del servicio militar a servicios médicos de emergencia (EMS) y cómo esta carrera le permite seguir sirviendo a la comunidad.
Maddy, Paramedic
Maddy describes what it's like on-shift, in the station, and why EMS jobs are so rewarding.
Darienn, Paramedic
Darienn shares the value of a quality EMS education and making connections in the community.
Media Kit
News outlets are encouraged to promote local access to state EMS scholarship funds, as well as report on the state's efforts to encourage Texans to join the EMS profession. The DSHS media kit includes EMS photos and quotes as well as testimonial videos and b-roll footage for download.