Maternal and Child Health Publications
Order some of our publications directly through the HHSC Warehouse or call them at (512) 250-7162 for assistance with your order (unless otherwise noted). Please note that accessible versions of these publications will be available soon.
---
Reports, Protocols, and Guidelines
Maternal & Child Health legislative reports can be found on the DSHS website.
---
​Information for Parents of Newborns​
According to Texas law (2005 79th Regular Session SB316) , physicians, certified nurse midwives, direct entry midwives, hospitals, and birthing centers that provide prenatal care to a pregnant woman during gestation or at delivery will provide the woman with information on immunization, newborn screening, postpartum depression and shaken baby syndrome. 
As of Mar. 4, 2022 this publication is in stock.
---
Safe Sleep For Babies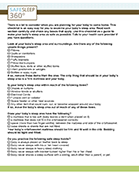 ​

The Texas Department of State Health Services (DSHS) partnered with the Texas Department of Family and Protective Services to create a "Safe Sleep Checklist" and public service announcement (PSA) for parents. The checklist provides guidance for keeping babies safe while sleeping. Providers may also want to keep copies in their waiting room.

 
---
Umbilical Cord Blood Banking and Donation Brochure

​

2007 80th Regular Session HB 709 requires physicians (and other people permitted by law to attend a pregnant woman during gestation or at delivery of an infant) to provide the woman with the Umbilical Cord Blood Banking brochure before the third trimester of the woman's pregnancy or as soon as reasonably feasible.
Participating Cord Blood Hospitals and Banks
List of Cord Blood Banks (PDF)
---
A Parent's Guide to Raising Healthy, Happy Children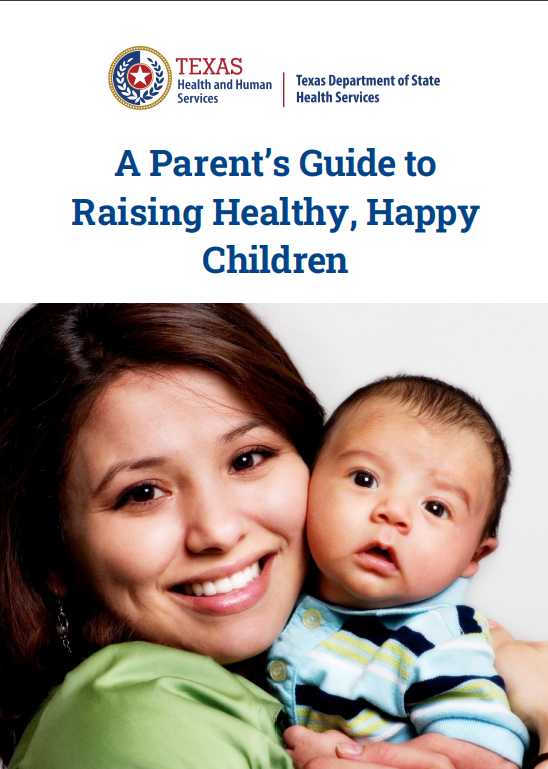 ​

This guide is designed for Medicaid-enrolled women receiving prenatal care or delivery of an infant services, the father of the infant, or another adult caregiver.

The guide provides information about the development, health, and safety of children from birth to age 5. As per 2009 HB1240, enacted by the 81st Legislative Session, a physical copy of the guide is available for free to providers (including staff of hospitals and birthing centers, as well as physicians, nurse midwives, and midwives) who provide prenatal care or deliver an infant of a pregnant woman enrolled in Medicaid. Read the Health and Safety Code, Section 161.501-161.502.

Eligible providers can order the guide at ebestpress.com

For those who are not eligible and would want an electronic copy, download the guide in PDF format:
---
Community Inclusion Brochures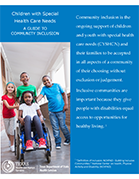 ​

DSHS' Community Inclusion brochures includes information for families and providers about creating an inclusive environment for children with special health care needs (CSHCN). The brochures also include resources for providers to learn more about inclusion and resources to help families find inclusive programs.

To order brochures, please use the online order form.

 

 

 
---
Medical Home Brochures

​

Maternal and Child Health developed brochures to help families and providers understand the importance of the medical home model.

To order brochures, please use our online order form.
---
Transition Brochures
​

DSHS' Maternal & Child Health publishes brochures to help families and providers understand the importance of planning for the transition to adulthood.

To order brochures, please use our online order form.
Family Resources
Provider Resources
What is Transition? (PDF)
---